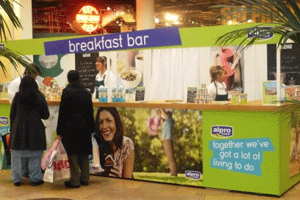 The roadshow will hit shopping centres and events throughout the year, including the National Boat and Caravan show (23 - 28 February).
The Breakfast Bar, which is the new product being promoted by Alpro, aims to position the company as an alternative choice for breakfast and will offer its fresh soya milk and yogurt varieties.
To continue communication between brand and consumer, visitors will be invited to join the Alpro soya album on Facebook after having their photo taken on the stand. They will then be given a unique code that can be used online to download the image and share with family and friends. There's also the chance to win a family holiday in Devon via a competition.
To leave a comment register and let us know your thoughts.