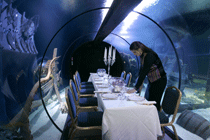 Visitors can also dine in the theme-park's 10 metre Ocean Tunnel, which offers views of Sharkbait Reef, a pirate-themed aquarium run by Sea Life. The attraction is located close to the park's Oblivion and Nemesis rides.

"The Resort's award-winning conference centre caters for all occasions and we aim to offer a unique, creative environment for conferences, as well as traditional corporate packages," said Dominique Sidley, head of corporate events and trade sales at the Alton Towers Resort.
To leave a comment register and let us know your thoughts.