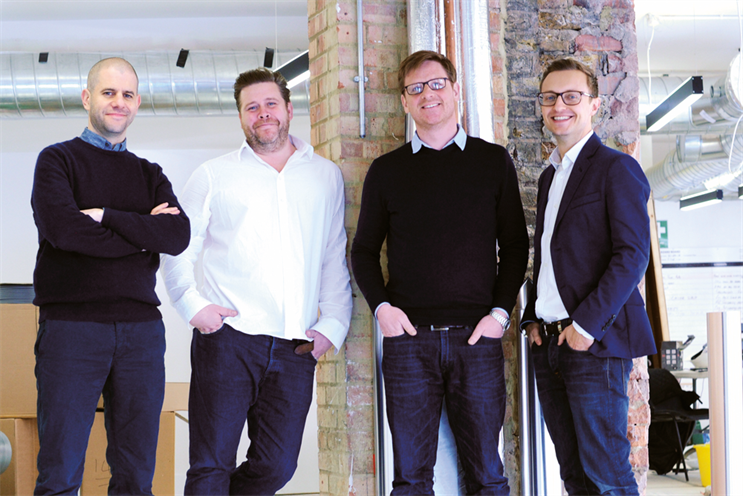 I've been dreaming about floor plans.
It's sad, I know, but I'm excited and anxious about the need to commit to the floor plans for our new office in Clerkenwell. How can we use space planning to encourage greater collaboration? How can we encourage more of our clients to hot-desk? What flexible area will we use for our agency lunches? What technology infrastructure do we need to see us through the next ten years?
Organisational design theory teases me further. Do we want our space to be "socially democratic" – breeding trust, initiative and individuality? Or are we more about "Bürolandschaft" – encouraging differentiation in our departments but rewarding horizontal interactions? Gosh. Where to start!
It's Red Brick Road's tenth anniversary this month. So before committing to those dastardly floor plans, I had a look backwards.
Since we opened our doors, the one constant has been a big hulk of wood that sits in our reception. Variously called "the bench", "the altar" and "the tights snagger", it's a six-metre-long wooden table with benches all around it.
As legend has it, the wood is recycled (or do I mean upcycled?) from a boat in Nelson's fleet. It's the heart and soul of our agency, anchored stoically in our reception. We eat breakfast and lunch there, we celebrate around it, we commiserate around it. We came together and had our first supper at it in April 2006 and it continues to be where all our staff and clients congregate.
But I think everything else has changed.
We're always under construction
When a client comes to us with a problem today, we interrogate their brief and try to go beyond it to find the best possible creative solution. If we don't have the expertise required to deliver that solution, frequently we create it.
As a result, our services have diversified to cover PR, social, digital, events and content, as well as the advertising and direct marketing we offered clients back in 2006. Constantly evolving our expertise is incredibly rewarding and is something we have hardwired into our strategy and culture.
We DIY more
We have more scope to make things than ever before. Whether that is influencing a client's product DNA or making always-on branded content. Technology has given all of us the power to "do it ourselves". While we worry as an industry that competition has never been stronger, the opportunities for us to move upstream and help our chief marketing officer, chief commercial officer and chief technology officer clients make big decisions to grow their business have never been greater.
We're only as good as our last job
There's now nowhere to hide. When a campaign breaks, we don't just have quantitative data to show reach and engagement, we see real-time qualitative data through social media sentiment. Once we talked about what a privilege it was for our advertising to enter people's homes on their telly. Today, we know what consumers think and feel about our brands' every move, and the bravest of us love that window into their worlds.
So what does all of that mean for my bloody floor plans? It shows that they don't matter. Not a jot. They need to be flexible – that's all. They need to work for today and be easily changed tomorrow. A benefit of being an independent is that we are never slaves to processes and structures, and our clients benefit from our agility and our attitude.
For ten years, we've attracted the people we really wanted because of this – people who want to sit around our big wooden bench to collaborate, to break creative boundaries and to think independently and entrepreneurially.
Back to my old insomnia-driver instead then… perfecting our "people plans".
Declaration of independence
What independence gives us The ability to be nosy, plucky and wilful.

The most important thing I have learned in the past year That, as an agency owner, there is no such thing as a work/life balance, just a work/life mix. Matt, Dickie, Ben and I all live in each other's lives. Our families know each other and our friends know each other. It doesn't work for everyone but it really does for us four.

The most cutting-edge tech we're using The Tindog app. We have seven agency canines and they're all digital natives.
At a glance
Founded 2006

Principals David Miller, chief executive; Matt Davis, executive creative director; Richard Megson, executive creative director; Ben Mitchell, head of strategy

Staff 80

Location London