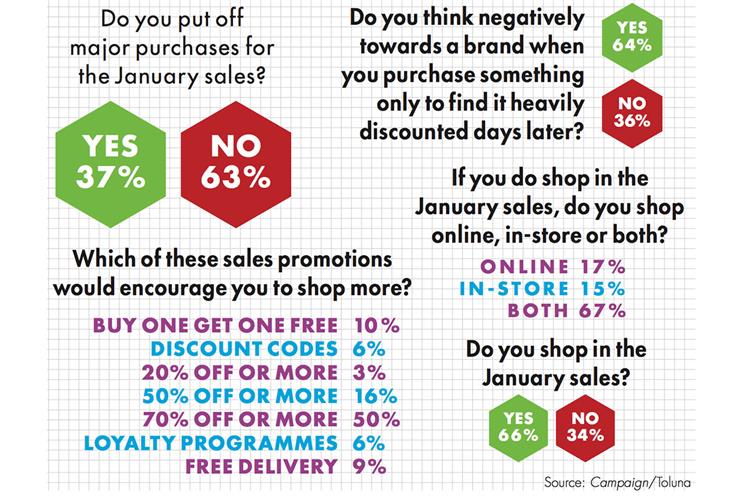 Results of the study suggest consumers suffer from "sales fatigue" given that only 37% of participants are "excited" by the prospect of the January sales. The same proportion put off major purchases until this key sales period. The research also found that only 6% use discount codes.
The focus on sales periods also means consumers who do pay full price feel short-changed. Sixty-four per cent of respondents who purchased a product at full price feel negatively towards a brand when they see the item is heavily discounted a few days later.
Jo Allison, editor at trends consultancy Canvas8, said that in our digitally driven "always on sale" shopping ecosystem, people don't look forward to the January sales as they once did.
She explained: "It's no longer seen as an exciting event to wake up at 6am for. Thanks to pre-Christmas events like Black Friday and Cyber Monday, alongside year-round deals websites and voucher codes, getting a good deal is something people expect to be able to do any day of the year."
Ecommerce experts pointed to businesses such as Amazon taking control of their sales calendar and creating "proactive peak" periods with brand-specific discounts such as Prime Day.
Patrick Munden, global head of retail and marketing at commerce consultancy Salmon, said increasing fatigue surrounding the January sales is simply because consumers have more choice and time to seek goods at a discounted rate thanks to the rise of these sales initiatives.
He said: "What we are seeing now is a dispersing of consumers across the weeks running up to Christmas and following it, rather than the large rush in January which would have been expected only five years ago."
However, despite marketers having to adapt to the "always on sale" mindset, UK shoppers spent £3.85bn in the Boxing Day sales in 2015, according to figures from VoucherCodes.co.uk and the Centre for Retail Research – a 6% increase on 2014.