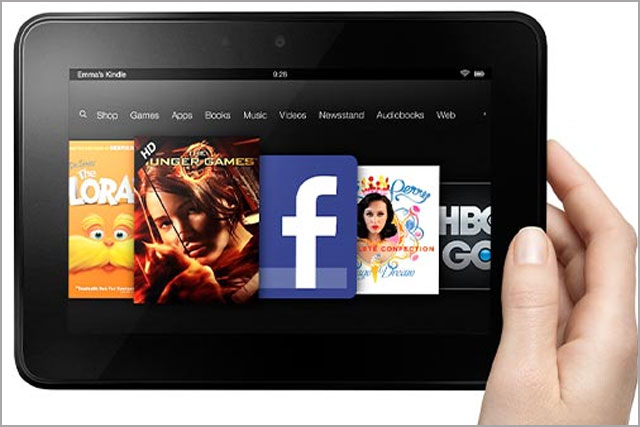 Jeff Bezos, Amazon's chief executive, unveiled the latest version of its tablet, dubbed the Kindle Fire HD, at a keenly anticipated event in California (7 September).
The seven-inch tablet has a high definition display, Wi-Fi, Dolby audio, 11 hours of battery life and an enhanced processor and graphics engine.
The 16GB version has been priced at £159 and the 32GB version at £199, undercutting Apple's iPad, which starts at £329 for the iPad2.
Bezos told the audience: "People don't want gadgets anymore. They want services that improve over time. They want services that improve every day, every week, and every month. Kindle Fire is a service."
The tablets are available to pre-order from Amazon.co.uk today.
Amazon has also unveiled a faster version of the original Kindle Fire, priced at £129, which first went on sale in the US in September last year.
The devices do not have 3G connectivity, but Amazon claims they are the fastest of all the tablets on the market. Users get access to purchase content from Amazon library which includes over 22 million movies, TV shows, songs, books and magazines.
Users will get one month's free subscription to its movie service LoveFilm.
Amazon claims the Kindle Fire has been its most successful product launch to date and captured 22% of US tablet sales in its first nine months.
The Kindle Fire has been billed as a not so much as an "iPad killer" but a lower priced alternative to the iPad for a different end of the market concerned with entertainment content.
While it was originally expected that the Kindle Fire would launch in the UK at the end of last year, it has been long delayed. Anticipation of a UK launch of Kindle Fire began to mount again in June this year, when Amazon it announced it was expanding its Appstore in Europe.
Amazon has not revealed marketing plans for the Kindle Fire in the UK, but it is expected it will be backed by a hefty ad campaign, as it was at launch in the US.
Some reports speculated that Amazon, which has been growing its hardware business, would be unveiling its first smartphone yesterday.
Separately, Amazon has announced it will be creating 2,000 jobs in the UK during the next three years in three fulfilment centres.
Roles will include HR, IT, facilities management, learning and development and operational management.
It will also create up to 3,000 temporary jobs in the UK over Christmas, to meet sales demand.
The news follows Amazon's announcement in July that confirmed the company is launching an international hub for technology and digital innovations in Tech City, East London.
Follow @shearmans