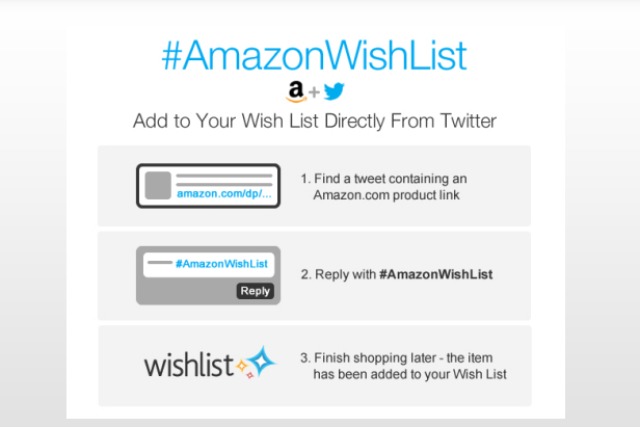 Shoppers will have to log into their Amazon accounts and adjust their settings to enable the feature. They will also need to enable access to their Twitter accounts. The feature will not work for locked accounts, Amazon said.
The new feature sees Amazon boosting its e-commerce experiments with Twitter, after launching #AmazonBasket, or #AmazonCart in the UK, in May.
Shoppers who stumble across a tweet containing an Amazon product link can now reply to the tweet with #AmazonWishList to add it to a dedicated Amazon wish list. The @MyAmazon customer service account will then notify users that an item has been successfully added to their wish list.
Test tweets sent by Marketing suggest the feature is not live in the UK yet, and Amazon has not responded to a request for clarification.
Amazon's director of social, John Yurcisin, said the new feature would make Christmas shopping easier.
"#AmazonWishList makes it easy for people to quickly add holiday gifts, décor or entertaining items tweeted by interesting people, friends, or brands on Twitter to their Amazon Wish List, allowing customers to simply save items to their Wish List and keep on tweeting," he said.