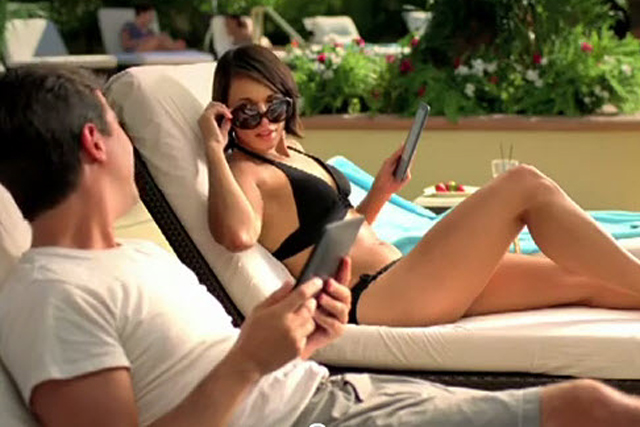 According to the ecommerce giant, since the start of 2012, for every 100 hardback and paperback books sold on its site, it has sold 114 ebooks.
The figures do not include free ebooks but does include sales of books that do not have Kindle editions.
Amazon started selling paperback books in October 1998 and introduced ebooks two years ago.
It now offers customers a selection of more than one million books, as well as subscriptions to newspapers, magazines and blogs.
By May 2011, Kindle book sales had overtaken hardback book sales at the rate of two to one in the UK.
Jorrit Van der Meulen, vice-president of Kindle EU, said: "We hit this milestone in the US less than four years after introducing Kindle, so to reach this landmark after just two years in the UK is remarkable and shows how quickly UK readers are embracing Kindle,"
Amazon also revealed Kindle book readers buy four times as many books as they did prior to owning a Kindle, and continue to buy physical books.
It also dialled up the success of its Kindle Direct Publishing business, which enables authors to self-publish and earn 70% of royalties. It said the number of authors and publishers using KDP in the UK has grown 400% since launch.
According to Amazon, there are more than one million Kindle users worldwide.
While Amazon expanded its Kindle range to include a tablet version called Kindle Fire, the product is yet to launch in the UK, having rolled out in the US in September last year.
However, speculation is mounting that it could soon be reaching UK shores, after the retailer recently announced plans to roll out its Appstore in Europe.
Amazon also recently revealed it has selected London's Tech City as the location for a global "innovation hub", to develop digital technologies that would benefit its customers.
Follow @shearmans