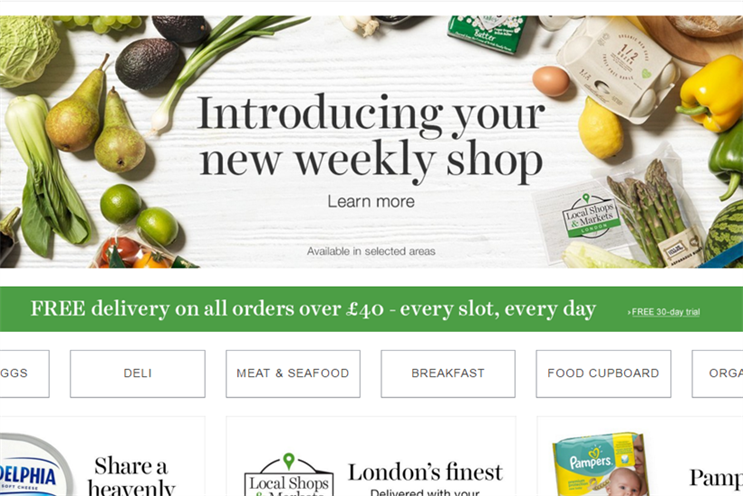 The online giant launched its grocery delivery service to 69 postal districts in central and east London last week, with a full national roll out expected to continue throughout the year. Amazon is offering 130,000 products – almost twice as many as Tesco, which is currently the leading online supermarket.
Nielsen's online survey, carried out last week, found both impressive brand awareness and consumer interest: despite the newness of the service, 29% of respondents were familiar with it, and 57% said they were very likely or likely to try it, with only 15% saying they definitely wouldn't.
Of the likely users, a huge 87% said they would expect to make use of the same day delivery service. 30% said they would be likely to shop from Amazon Fresh at least weekly, and three quarters said they would move spend from an existing retailer to Amazon Fresh.
Of these, more than half (56%) said they would move spend from Tesco. This was followed by Asda and Sainsbury's (both 36%), with lower figures for Morrisons (16%), The Co-op (13%), Aldi (12%), Iceland (10%) and Lidl (8%).
Nielsen's Senior UK shopper research manager Sophie Jones said the figures suggested Amazon's entry into the UK could have a serious impact on existing players, in more ways than one.
"Perhaps the biggest impact will be on the convenience market," she said. "30% of Amazon Fresh customers potentially using it at least once a week puts it in competition with convenience retailers as a high-frequency service for the busy top-up shopper.
"The popularity of the same day delivery service is likely to make this the standard expectation for shoppers, heaping a huge amount of pressure on current grocery retailers to up their delivery parameters."
At the Marketing Society's annual lecture in March – when the launch of Fresh was still unconfirmed – Tesco CEO Dave Lewis dismissed the idea that he should be worried about the prospects of Amazon entering the grocery market
"If as a marketer you sit there fearing the idea that somebody might enter your market, you're halfway done," Lewis said. "Competition will make us stronger. Bring it on."