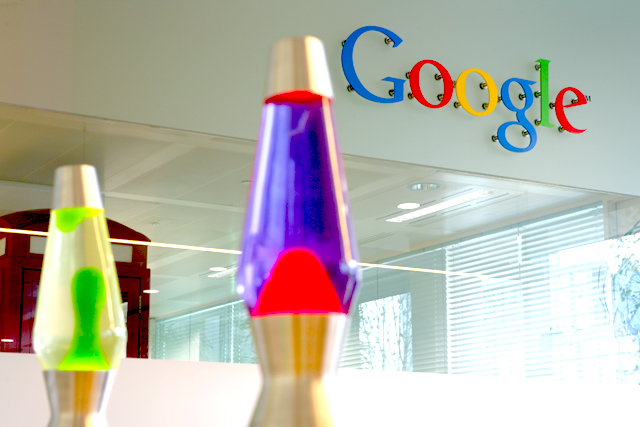 The duo appear on the list of nearly 2,000 applications for new top level domain names expected to be released under the auspices of Icann, the Internet Corporation for Assigned Names and Numbers.
In some cases individual names, which will provide an alternative to the familiar ".com", have attracted multiple applicants and may have to be assigned via an auction process.
App has attracted 13 applicants, shop has attracted nine and free has attracted five.
Many companies have applied for their own brand name, including Apple, Nike, Nissan, Dell, the BBC and Cartier.
Among those who have not are Starbucks, Coca-Cola and Kellogg.
Others have been more creative, with L'Oreal going for beauty, in competition with two other applicants.
Some of Google's choices touch on the zany, including boo, lol, soy and wow, while it has also appears to have family on its mind with dad, mom, kid and even dog.
Amazon's choices include a cheeky like (which Facebook has not applied for) and several media-related names such as book, game, mobile, music, movie, song, tunes and video.
Amazon v Google
Amazon applied for...

Google applied for...

AMAZON
AND
APP
ANDROID
AUDIBLE
APP
AUTHOR
ARE
AWS
BABY
BOOK
BLOG
BUY
BOO
CALL
BOOK
CIRCLE
BUY
CLOUD
CAL
COUPON
CHANNEL
DEAL
CHROME
DEV
CLOUD
DRIVE
CORP
FREE
DAD
GAME
DAY
GOT
DCLK
GROUP
DEV
HOT
DOT
IMDB
DRIVE
JOT
EARTH
JOY
EAT
KIDS
ESQ
KINDLE
EST
MAIL
FLY
MOBILE
FOO
MOVIE
FREE
MUSIC
GAME
NEWS
GBIZ
PAY
GOOG
SEARCH
GOOGLE
SHOP
GUGE
SMILE
HANGOUT
STORE
HERE
VIDEO
HOME
YOU
HOW
YUN
INC
ZAPPOS
KID
LIVE
LOL
LOVE
MAIL
MOM
MOVIE
MUSIC
NEW
PAGE
PLUS
RSVP
SEARCH
SHOP
STORE
TUBE
YOU
YOUTUBE