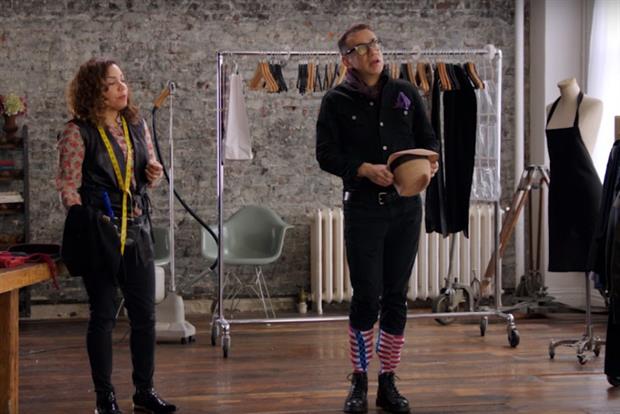 Amazon quietly launches seven in-house clothing brands
Amazon has quietly launched seven in-house fashion labels that sell a range of clothing and accessories for men, women and children.
The ecommerce giant registered its new fashion brand trademarks in Europe through a Luxembourg-based subsidiary called Amazon Technologies.
The trademarked brands are selling over 1,700 different products on Amazon's US website and one of of the women's brands - Lark & Ro - is available on the Canadian site.
There is no indication on the products that they are Amazon-owned brands.
The seven brands include:
Franklin & Freeman - Men's dress shoes
Franklin Tailored - Men's suits and accessories
James & Erin - Women's clothing
Lark & Ro - Women's clothing
Society New York - Women's clothing
North Eleven - Women's accessories for cold weather
Scout + Ro - Children's clothing
A pair of men's shoes from Franklin & Freeman cost about $70 (£50) while women's tops from James & Erin are on sale for $30 (£21.46).
Amazon has been making a push into fashion for the last seven years, but until now it has not sold any own-brand clothing.
Source: CNN Money
Second-hand VW sales unaffected by emissions scandal
Second-hand Volkswagen cars appear as popular as ever in the UK despite an emissions scandal tainting the brand, according to data from Auto Trader.
VW admitted last year that it had been installing devices in diesel vehicles to cheat in US emissions tests.
Sales of new VW cars in the UK dropped 13.9% in January, according to figures from industry body SMMT. However, Auto Trader research found average used car prices for VWs were not affected, while consumer searches for VW brands showed no change.
The model that was most implicated by the emissions scandal, the Volkswagen Golf, is the second most viewed car on the Auto Trader website, behind only the BMW 3 series.
Source: Financial Times
Ofcom lets BT off Openreach spin-off for now
BT has narrowly avoided being forced to spin off Openreach into a separate company by industry regulator Ofcom.
Ofcom said BT must open up its network to competitors and reform Openreach "to better serve UK customers and businesses", but has stopped short of insisting it would have to spin off the company.
However, Ofcom has kept the door open to Openreach being made into separate entity, with its own shareholders.
The regulator added it would release more detailed proposals later this year.
Source: City AM
Catch up with some of our longer reads...


'Ride me all day for £3', 'Are you beach body ready?', 'Taste the Bush', 'The only Aussie we don't want to get out'. These four ad taglines and their accompanying imagery caused serious offence in 2015, and grabbed the nation's attention for all the wrong reasons. But, does the old adage that all publicity is good publicity ring true in these cases? Do people like to feel outraged to some extent, or are we reaching the point where bad-taste ads put consumers off a brand for good?
High-profile hacking cases and daily bombardments of unwanted marketing interventions in personal browsing and leisure time are forcing consumers to rethink what data they share and with whom they share it. Marketers have to reframe the data issue.
If you watch one video today...
...then don't watch a video, listen to our latest Marketing Mind podcast. Hosted by editor Rachel Barnes and featuring planning partner from BMB, David Bain, and features editor Rebecca Coleman, this month's episode explores good and bad taste in advertising (including one creative's view on the most tasteless campaign she's ever produced).