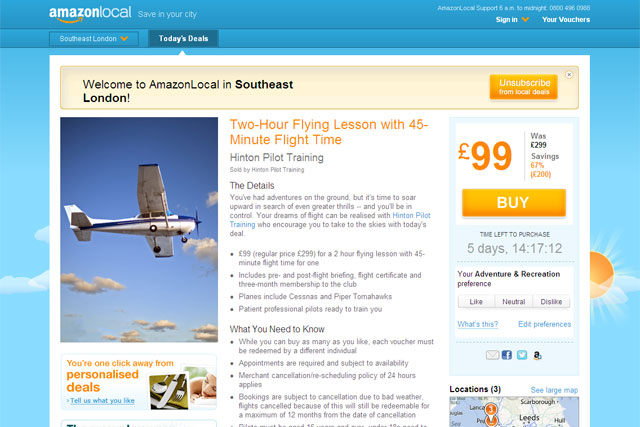 AmazonLocal will also offer discounted experiences, inclusing flying lessons and massages.
The site, local.amazon.co.uk, only includes offers for London, and Amazon has not revealed a timeframe for rolling out the service across the whole of the UK, but said it is "working quickly" to expand across the rest of the country.
The site requires consumers to subscribe to the service and to select an area within London that is most relevant to them, before selecting their preferred areas of interest, in order to receive tailored deals and offers.
Amazon's entry to the increasingly crowded UK daily deals market comes a month after Nectar launched its own discount service and two months after the Office of Fair Trading (OFT) sent letters of warning to 35 daily deals sites asking them to review their trading practices amid growing consumer concern.
Amazon launched the service in the US in June 2011, and has since expanded to a number of states from Florida to Georgia.
Read more on The Wall blog
Has the shine worn off of daily deals websites?