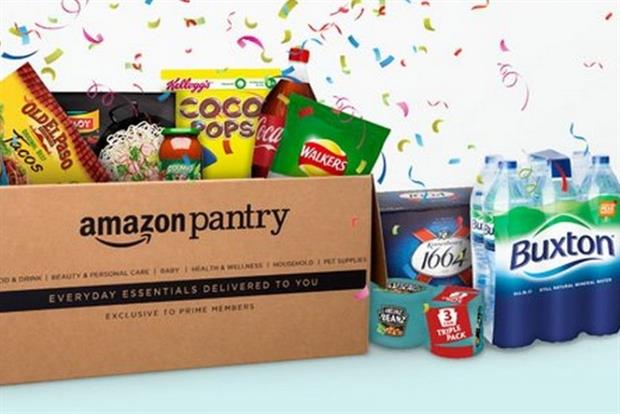 Amazon Pantry expands with Morrisons deal
Morrisons has expanded its online operations by signing a deal to supply groceries to Amazon customers.

The supermarket said it will supply products for the Amazon Prime Now and Amazon Pantry services.

Amazon Pantry was launched in the UK last year, escalating competition with the big four supermarkets, but did not offer fresh food.

Under the new deal, Morrisons will supply fresh, frozen and other goods to Amazon customers.
Source: BBC
P&G goes legal over 'counterfeit' products
Procter & Gamble has filed a High Court action against Poundstretcher and two suppliers, accusing them of selling counterfeit Head & Shoulders shampoo and Ariel laundry powder.

The American consumer goods giant alleges that the discount retailer and two wholesalers, Home and Beauty and J&S Brands, traded in bogus products and infringed its trademarks between 2013 and 2014. P&G is seeking damages and has demanded to be told the origins of the imitation goods.

Poundstretcher and Home and Beauty have not yet filed defences to the claim, which was brought last month. J&S has submitted a defence, saying it "does not admit" to having bought and sold fake products. It "believes" its haircare goods were not counterfeit, although it "is now aware that the marketplace was in 2013 awash" with bogus products.

Source: Sunday Times
British Retail Consortium predicts jobs squeeze
The number of jobs across the UK retail industry will decrease because of technology and the rising minimum wage, the British Retail Consortium (BRC) has warned.

The industry trade body predicts that up to 900,000 jobs would disappear in this sector by 2025, adding that the threat may be greater for small businesses and poorer areas as they would find it difficult to adapt.

This marks about a one-third fall from the three million people currently employed by British retailers. While the current figures translate to one in six British employees, the retail sector currently accounts for 10% of the economy.

Source: International Business Times
Charities warned over commercial tie-ins and chuggers
Charities are set to be formally warned about their commercial fundraising activities, including tie-ins with companies and street collecting, amid increasing concerns that some arrangements risk eroding public trust.

The alert from the Charity Commission will go out today to 1,700 charities believed to be involved in such activities, a commission spokesman said, with a warning that failure to comply with guidelines could mean action will be taken.

The charities will be urged to review fundraising efforts, which include both street and door-to-door collections by outside-employed "chuggers", or charity muggers, and promotional deals with companies such as credit card providers and energy firms.

The commission's chair, William Shawcross, will say today that charities must stop "hounding" people.

Source: The Guardian
Catch up with some of our longer reads...


'Ride me all day for £3', 'Are you beach body ready?', 'Taste the Bush', 'The only Aussie we don't want to get out'. These four ad taglines and their accompanying imagery caused serious offence in 2015, and grabbed the nation's attention for all the wrong reasons. But, does the old adage that all publicity is good publicity ring true in these cases? Do people like to feel outraged to some extent, or are we reaching the point where bad-taste ads put consumers off a brand for good?
High-profile hacking cases and daily bombardments of unwanted marketing interventions in personal browsing and leisure time are forcing consumers to rethink what data they share and with whom they share it. Marketers have to reframe the data issue.
If you watch one video today...
...then don't watch a video, listen to our latest Marketing Mind podcast. Hosted by editor Rachel Barnes and featuring planning partner from BMB, David Bain, and features editor Rebecca Coleman, this month's episode explores good and bad taste in advertising (including one creative's view on the most tasteless campaign she's ever produced).