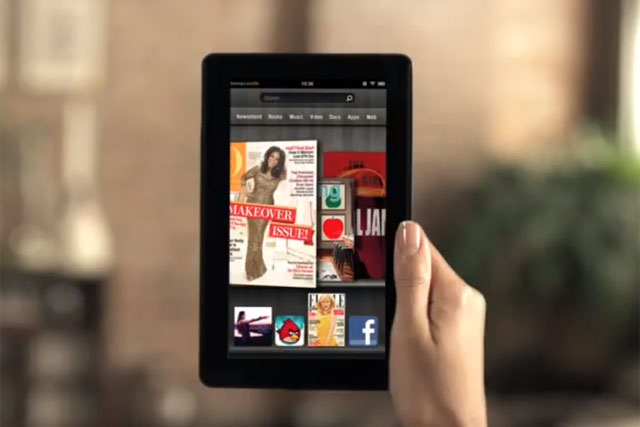 The online retailer is aggressively undercutting the cost of an Apple iPad by charging $199 (£127) for the device, which has a 7-inch full-colour touchscreen and will operate off an Android-based operating system with a new web browser dubbed Amazon Silk.
Apple's cheapest iPad currently costs $499 (£319) and it is expected the Kindle Fire will be a loss leader to allow the company to capitalise on the lucrative digital content market offered by the sale of music, video and apps on tablet devices.
Amazon currently offers 100,000 movies and TV shows and 17 million songs, with content partners for video including CBS, NBC and Fox.
The tablet is expected to go on sale in the US in October.
It was unveiled at a press conference held today (28 September) by founder Jeff Bezos, together with this preview:



Media companies are hoping the Amazon tablet will provide a robust challenge to Apple's iPad after other technology giants have tried and so far failed to curb its dominance.
Hewlett Packard is pulling out of the tablet business entirely after its TouchPad device failed to sell, while Sharp announced this month it would stop selling its Galapagos tablet less than a year after launching it.
The failure of other companies to penetrate the market has resulted in Apple being able to dictate terms, which has seen Apple frustrate media companies by demanding a 30% cut of media sales that are processed through its iTunes store.
Apple's insistence on taking a cut of digital content sold on its devices led the Financial Times to introduce a browser-based app for tablets in order to bypass iTunes and deal directly with consumers.
The Kindle Fire was unveiled at a press event in New York today, which was shrouded in mystery in a similar way to how Apple handles the launch of its iPhone and iPad devices.
It is also believed that Amazon will freely share subscriber data with newspaper and magazine publishers, which Apple does not currently allow.
The tablet will offer apps through its Appstore, music through Amazon's Cloud Player music service, videos through its Instant Video service and books through its Kindle platform.
Amazon already controls over 50% of the ebook market, but is hoping to gain ground on Apple and Netflix in the music and video markets respectively.
Other players in the tablet market include Research in Motion (RIM) and Samsung. RIM was forced to issue a profit warning earlier this month after failing to shift stock of its BlackBerry PlayBook, while Samsung has seen a disappointing start to shipments of its Galaxy Tab.
Tablet computers represent a relatively untapped market, with figures from comScore revealing that tablets were responsible for 1.2% of the UK's total web traffic in May.
Follow Matthew Chapman on Twitter @mattchapmanuk