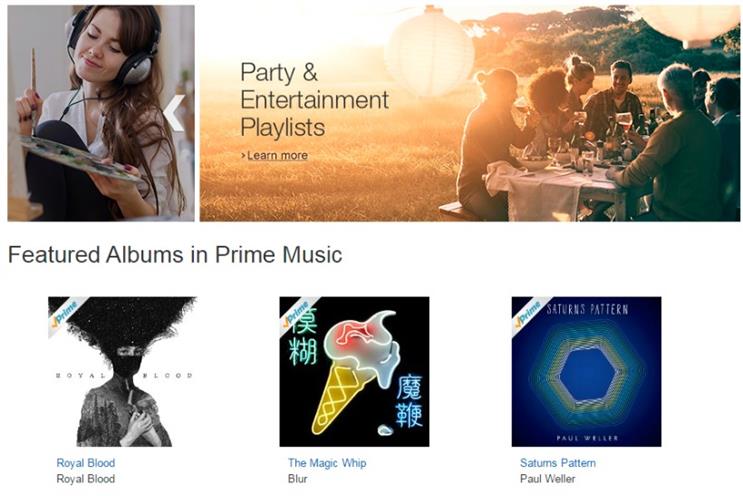 The service gives customers access to more than one million songs from Amazon's wider catalogue of 30 million songs. There are more than 30 million tracks available to consumers on either Spotify or Apple Music.
Artists available on the service include Bob Dylan, One Direction, David Bowie and Madonna.
However, as with the US version, the catalogue is missing several major Universal artists, including Eminem, Abba and Katy Perry. It's possible this is down to a royalties dispute between the label and Amazon.
Users can also only buy, rather than stream, Disney's Frozen soundtrack through the service.
Another Amazon Prime perk
While Amazon's service is more basic than Spotify, the leading European streaming service, and the newly launched Apple Music, it's also cheaper than most of its competitors. Prime Music makes more sense when taken as one of many Amazon Prime perks, rather than a standalone streaming service.
Steve Bernstein, Amazon's director of music for the EU, told the Mirror Amazon Prime's US user base surpassed all rivals combined, including Deezer, Rdio, Rhapsody and Google Music.
He told the newspaper: "We don't know what Apple Music looks like yet, because it's still in its free period. But ignoring Spotify and Apple Music, we're bigger than everyone else combined.
"We are doing well in the US, so what's the most natural thing to do? Launch in the UK."
Prime Music apes some of the premium features of its rivals with offline listening, the ability to listen to the same song more than once, and no ads.
But it lacks high-resolution tracks, and reviewers have criticised the service's discovery features, suggesting Prime Music is targeted at the mainstream, rather than audiophiles.
The service is available on desktop, iOS or Android.
---
Recommended