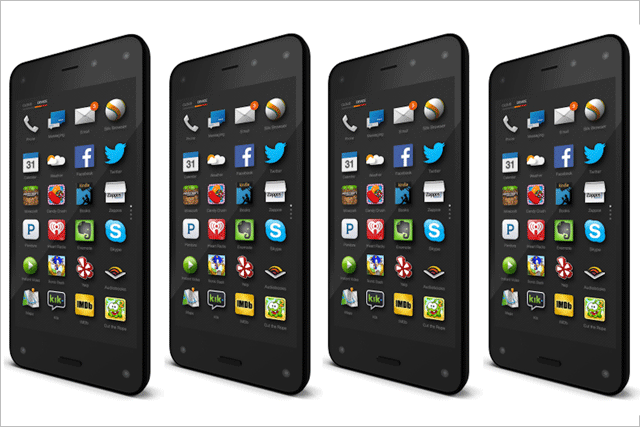 Speaking at a press event in Seattle, chief executive Jeff Bezos revealed the product, which has been subject to various leaks and speculation in the media.
Powering its 3D Dynamic Perspective technology are four low-power infrared cameras in its front that track the user, while gesture controls let people scroll through a webpage or navigate menus by tilting the phone.
As well as Dynamic Perspective, the Fire Phone uses another of Amazon's "breakthrough technologies" called Firefly, which recognises things in the real world such as email addresses, phone numbers, movies, QR codes and barcodes. It lets users interact with them, or capture them with the press of a Firefly button.
Divulged details of the phone's availability referred only to the US market. The basic version of the phone with 32GB of storage will cost consumers $199 (£117), plus the monthly costs of a minimum two-year contact with AT&T. The latter is currently the only mobile network offering the phone.
Bezos said: "Fire Phone puts everything you love about Amazon in the palm of your hand – instant access to Amazon's vast content ecosystem and exclusive features like the Mayday button, ASAP, Second Screen, X-Ray, free unlimited photo storage, and more.
"The Firefly button lets you identify printed web and email addresses, phone numbers, QR and bar codes, artwork, and over 100 million items, including songs, movies, TV shows, and products - and take action in seconds."
Showcasing the Dynamic Perspective are a number of apps and games available for the Fire Phone, including a game called Lili, where players take on the viewpoint of the protagonist and are able to move their head to peer around corners and other objects.
But in the build-up to the launch event, critics claim Amazon's entry into a highly competitive smartphone market dominated by Apple and Samsung is designed to enable it to sell more products via its core ecommerce platforms.
James McQuivey, vice-president and principal analyst at Forrester, said: "Amazon cares about phones only as a means to a digital relationship end, a way to make sure customers think of Amazon not just a few times a month, or even a few times a week, but dozens of times a day, creating the opportunity for Amazon to convert as many of those interactions into purchases as possible."