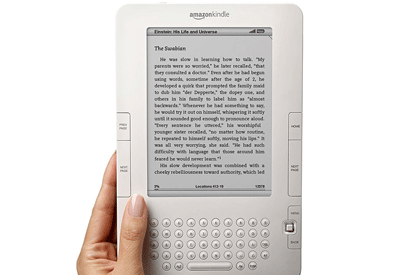 The Kindle is expected to hit UK shelves this month, with an announcement expected next week, according to a report.
The move has long been expected after Amazon said they wanted to launch the e-book reader outside of the US, but the company has always refused to commit to a timetable publicly.
It is believed the delay is due to a technical issue linked to the Whispernet wireless download system, which allows users to download e-books directly onto their Kindle.
Reports claim the system has encountered technical obstacles in Europe, while international roaming charges also presented an obstacle.
However, reports suggest that Qualcomm, the wireless development company that provides the Whispernet system, has overcome the problems to enable the Kindle to work in the UK.
Aside from the launch date, one of the other big questions hanging over the UK launch of the Kindle is price. In the US, the Kindle sells for $300 (£188).
The device has been a big hit in the US, with reports claming a million units were shifted last year. Amazon does not reveal sales figures, but it expects to sell a million of the devices in 2009.
Amazon declined to comment.