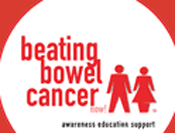 The predominantly email campaign will run over the next two to three months and features advice and tips from ex England Rugby star and A Question of Sport presenter, Matt Dawson, who is a patron of the charity and has family members who have had or had bowel cancer.

Entitled Tackle it!, the digital campaign aims to elevate awareness of the symptoms of the disease, prompt downloads of an information leaflet and encourage people to visit their GP if at all concerned. It also targets GPs offering them materials to use in their surgeries and pass on to their patients.

Hilary Whittaker, chief executive, Beating Bowel Cancer, said, "With ten men under the age of 60 diagnosed with bowel cancer every day in the UK, half of whom will die of the disease, it is vital for us to raise awareness amongst this target group. Ambition has developed our first fully digital campaign specifically targeted at men and using imagery and language with which they can identify."

Jo Curteis, a director at Ambition Communications, said, "As the charity's new patron, Matt Dawson, is a perfect asset to help us with a campaign specifically targeting men. His high profile helps us engage with an audience on what is often a difficult topic for many to talk about. In addition, using email as our primary communication channel is an economical way of maximising the charity's budget and potential audience reach."

Ambition purchased a list on a cost per download basis from Mailtrack Media. "We've worked with them before. They have helped shape and formulate the campaign," added Curteis.

Ambition Communications is an integrated agency offering marketing strategy, brand development, design, advertising, promotional marketing and public relations. It was set up in 2005 by Rebecca McKinley and now employs eight people. Clients include Diageo, BlackBerry, and Feel Good Drinks Company.