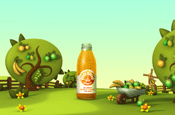 Created by Ambition Communications, the campaign promotes the drink as free from artificial flavours or added sugars.
One ad shows a bottle of Feel Good in a field dodging a rainshower of artificial flavours, while another shows it under a hailstorm of sugarcubes.
The animation was created by Seed Animation, with three executions running for 12 weeks throughout the summer.
CreditsProject name:
Feel Good Drinks TV Ad
Client:
Steve Cooper, Marketing Director Feel Good Drinks
Brief:
There's goodness in every bottle of Feel Good Drinks
Creative agency:
Ambition Communications
Copywriter:
Phil Wiggins
Art director:
Stuart Baker
Planner:
n/a
Media agency:
John Aylings
Media planner:
Richard Temple
Media spend:
estimated £400k
Production company:
Seed Animation
Director:
Morgan Powell
Editor:
Neil Kidney
Post-production:
Nice Biscuits
Exposure:
Television