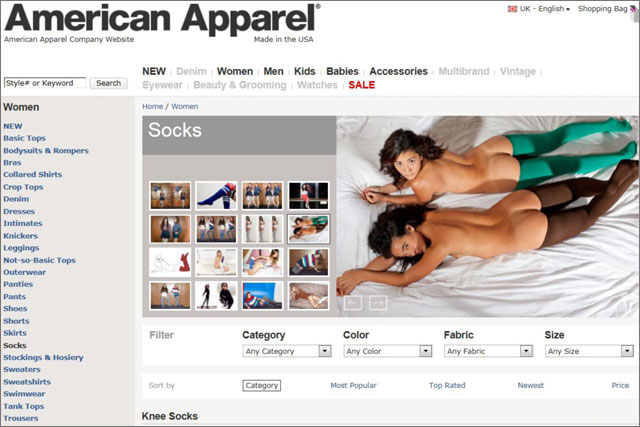 The complainant challenged a total of eight ads that ran on American Apparel's website, which were viewed in October last year, as well as an ad in a free lifestyle magazine called Crack.
The ASA banned eight out of the nine ads.
American Apparel has a history of running controversial ads. In 2009, an ad it ran featuring a semi-naked young woman was banned by the ASA.
In this case, the complainant challenged whether the images were offensive, because they were "pornographic, exploitative of women and inappropriately sexualised" young women.
The website ads showed women in various suggestive poses.
One ad on the American Apparel website showed two women lying face down on a bed, shot from above. They were wearing thigh-high socks and nothing else, revealing their bare buttocks.
American Apparel said it did not believe that any of the images were pornographic, exploitative of women or inappropriately sexualised young women.
The company said the images on the website featured real, non-airbrushed, everyday people, and that the vast majority of them were not professional models.
Furthermore, they argued that they were the sort of images people regularly shared with their friends on social networks, adding that the women were not portrayed in a manner that was vulnerable, negative or exploitative.
American Apparel also argued that the public was frequently exposed to far more sexually exploitative images in advertising, and even more so in newspapers, TV and on the internet.
The company said if the complaint was upheld, it would be applying a rule of censorship that was completely out of date.
The ASA, in its ruling, noted a number of factors. In particular, it focused in on the fact that the majority of clothing items featured in the ads were outer garments, and considered that the nature of the women's poses meant that their breasts and buttocks were the focal points of the images rather than the products.
It also pointed out that there was a voyeuristic and "amateurish" quality to the ads.
The ASA ruled that all of the ads except for one should be banned.
The ASA also told American Apparel not to run similar images that were exploitative of women or that inappropriately sexualised young women in future.
Follow John Reynolds on Twitter @johnreynolds10