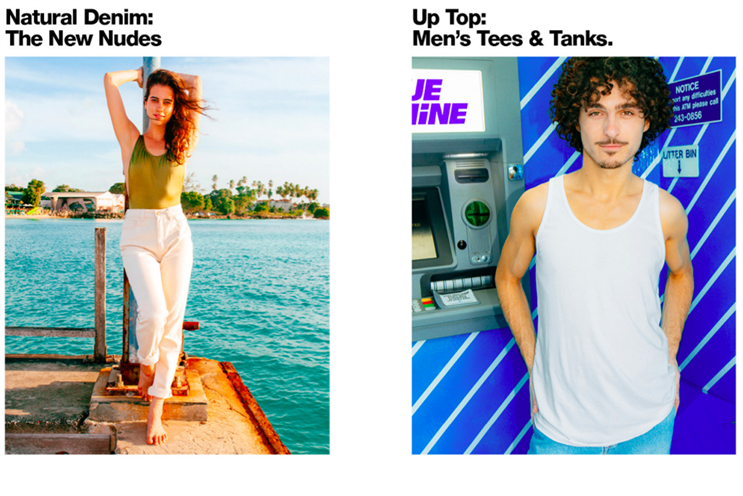 The brand will be launching online-only on 23 April in the UK, driven by an integrated marketing campaign that includes social, digital, out-of-home, and a significant PR push supported by Fabric PR.
Thinking Juice will be responsible for UK communications planning across all channels, working closely with American Apparel's in-house creative team in Los Angeles.
The agency was appointed after a competitive pitch involving "three or four agencies" which took place in December last year.
"The feedback we got was that the brand liked that we had both strategic media and creative in the business," Neil Dennis, managing director of Thinking Juice, said.
The agency's first duties will be to provide both media support and on-the-ground knowledge. While most of the brand's creative assets are currently being created centrally in-house out of the brand's headquarters in Los Angeles, there is room in the future for building a UK-base of models, Dennis said.
"We needed a partner who could act as our brand guardian on the ground and advise us strategically on how to meet our brand and business goals, and Thinking Juice met the brief perfectly," Sabina Weber, director marketing at American Apparel, said.
The brand's revival
In November 2016, American Apparel went into administration and closed all its stores in the UK and US. The brand had faced constant controversy about its use of very young female models in sexualised imagery to advertise its products.
To break away from this image, but retain the brand's iconic look and appeal, new owners Gildan Activewear put an all-female executive board in place ahead of the brand's online-only relaunch in the US in August 2017.
The brand's new leadership wants to keep American Apparel's sexy imagery but avoid sexualising women in an exploitative fashion. The goal, Gildan has said, is not to cover women up but to use empowered models and treat both men and women equally in style.
Looking over the brand's ecommerce site and its Instagram feed, the product range is largely the same as its previous incarnation, as is the logo and its stark flash-photography-driven aesthetic.
It describes its brand approach as "designed to appeal to audiences of all shapes and sizes, underpinned by a strong message of body positivity, empowerment, inclusivity and diversity".
"The UK is a loved and important market for American Apparel and customer demand made it easy for us to make the decision to enter back into the market," Weber said.