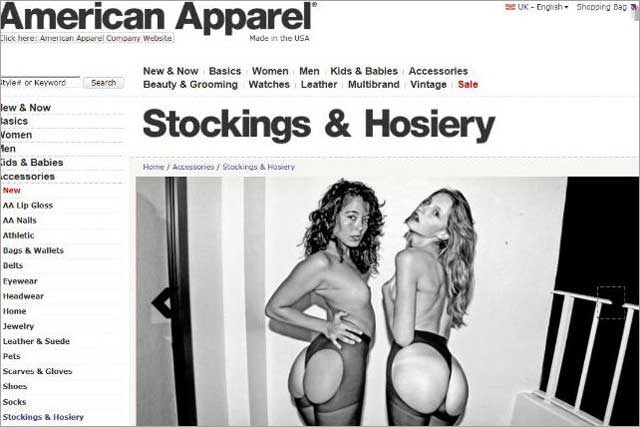 The Advertising Standards Authority (ASA) received two complaints regarding "overtly sexual" and "inappropriate" images on American Apparel's site. All the images were created in-house.
In two separate investigations the ASA assessed 27 images and banned seven.
The images that drew the first complaint featured: a woman wearing only a pair of white tights; a near-naked woman wearing a pair of high denier tights, bending forwards with her back to the camera; and a photograph of two women wearing cut out tights that exposed their bottoms.
These images were considered inappropriate for a website that could be seen by children.
The second complaint addressed a series of images of a woman modelling American Apparel's translucent shirts. They were banned because the model looked under 16 and her breasts were visible, sexualising "a model who appeared to be a child".
It is not the first time American Apparel's website has been on the wrong side of the ASA. In April the watchdog banned a series of images on the same grounds and told the retailer not to run similar images that were exploitative of women or inappropriately sexualised young women in future.
The complainant challenged a total of eight ads that ran on American Apparel's website in October last year, as well as an ad in a free lifestyle magazine called Crack.
The ASA banned eight out of the nine ads.