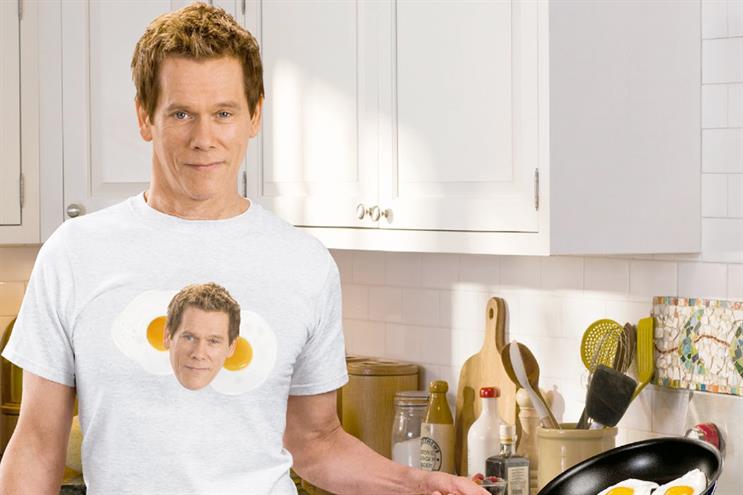 Most people are familiar with the parlor game "Six Degrees of Kevin Bacon" in which players attempt to connect an arbitrary actor to Kevin Bacon.
This web film for the American Egg Board by Grey New York connects Kevin Bacon to something only one degree away: eggs.

"With a last name like Bacon, I'm the obvious choice, and I'm excited to be a part of the new Incredible Edible Egg campaign," the actor said in a statement.
In the video, Bacon materializes on a woman's kitchen counter as she prepares eggs — with a side of bacon. She quickly learns the virtues of eggs and that the Hollywood star does not care for bacon puns.
A behind-the-scenes video is also available.
Campaign credits
Client: American Egg Board
Agency: Grey New York
Chief Creative Officer: Tor Myhren (Global) / Andreas Dahlqvist (New York)
Creative Directors: Ari Halper (Executive Creative Director), Steve Krauss (Executive Creative Director), Brad Mancuso, Susan LaScala Wood
Art Directors: Jay Hunt / Pete Gosselin, Matt DeCoste
Copywriters: Jay Hunt / Pete Gosselin
Agency Producer: Perry Kornblum
Production Company (location): Moxie Pictures (LA)
Director: Martin Granger
Director of Photography: Alar Kivilo
Editor (person & company): Alex Cohan / Vision Post
Music/Sound Design (person & company): Matt Baker / Vision Post
Principal Talent: Kevin Bacon, Geneva Carr, Jeff Wiens