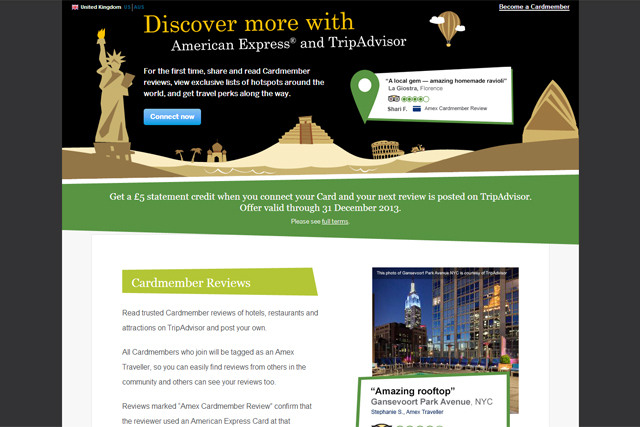 Amex plans to promote the partnership through advertising, card member communications and within the TripAdvisor site and is working with its agencies Ogilvy & Mather and Mindshare on the activity.
The partnership will allow Amex customers in the US, UK and Australia to connect their card to their TripAdvisor account through an encrypted Amex microsite. No card data will be shared with TripAdvisor.
As well as the special offers from restaurants and hotels, card members will also be rewarded with a £5 credit in the UK, or a $5 credit in the US and Australia, in return for their first review as an 'Amex Traveler'.
Amex travellers will be able to see exclusive lists of "hot spots" or popular venues among other card members on the TripAdvisor site, complied using American Express Spend Graph data.
Stacy Gratz, the vice president of digital partnerships at American Express, said: "The objective [of the partnership] is to bring more value and create moments in areas where customers are spending their time.
"It's vital we continue to add value and bring the experience to life for them."
Last year Amercian Express partnered with Foursquare to offer location-based offers from high street brands.