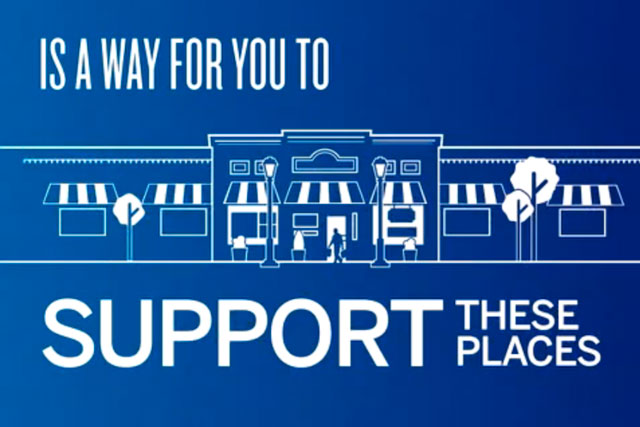 The campaign, which involved the creation of the second "small business Saturday" campaign for American Express in the US last November, triumphed by winning the top "blue" accolade in a contest that attracted more than 1,000 submissions from 40 countries across the world.
Four agencies landed second-tier "gold" awards in the contest. These were US-based EVB for its "serenading unicorn" work for Wrigley, Switzerland-based Walker Werbeagentur for its "Zurich needs" activity for the Social Democratic Party of Switzlerland, Hasan & Partners in Finland for its "make a better one yourself" work for KIASMA Museum of Contemporary Art and Duval Guillaume in Beligum for its "fashion tag" campaign for Flair magazine.
There were also two silver winners and four bronze awards. However, there were no UK winners among the 11 winners from seven different countires.
David Sable, the global chief executive at Y&R, chaired a judging panel that also included Susan Credle from Leo Burnett, Stephen Goldblatt from EVB and Jeff Benjamin from JWT.
The awards support the Facebook Studio platform that was launched in April 2011 as a community for agencies, brands and creativces to showcase their best Facebook work.
Digitas was recognised with the "blue" award for "building an enduring social media campaign which demonstrated success that is transformative to Amex's business." Over 500,000 small businesses used the platform in its second year and it attracted more than 2.7 million Facebook fans.
David Sable, the chair of judges, answered some questions from Campaign about the competition and the winners:
What impressed you most about the winning "blue" award campaign for AmEx?
What impressed me the most about the AmEx campaign was if ever there was proof that the Facebook campaign can sustain momentum, this was it. It's a really inspiring campaign because it has legs and drives results. It's even been recognized as an official day by the Congress of the United States. It drives business. It's become embedded in the way people shop and the way small businesses use media. It was the ultimate power of Facebook to bridge the digital and physical world. To me, this was Facebook at its best.

On the whole what lessons should agencies take from the winners about what makes a strong Facebook campaign?
To me, the biggest lessons agencies should take is that Facebook is and can be a viable part of people's lives. The best use of Facebook recognizes people's real lives, it utilizes other media channels and is clearly scalable. In my opinion, the big lesson is that Facebook can be an important part of any campaign.

Apart from the lack of UK winners were there any geographical differences in the way various markets use Facebook?
Not really because the best campaigns all did the same things. They understood smart marketing, told great stories and used Facebook to its best.

Based on the outcome of your judging process, is strong Facebook activity the domain of specialist "digital agencies"?
Not at all. In fact, if anything, it's clear that all good agencies should be viable Facebook campaign creators. As I mentioned, the best Facebook campaigns are not limited to digital. That is a limiting way.

What impact does using Facebook have on advertising agencies? Does it have implications for the rules of successful brand building and the creative process?
The biggest impact that Facebook should have is reassuring them that brand building, story-telling, great impactful ideas are still critical to success. The winners showed that the use of video, print, newspaper, mobile, broadcast…all of these add power to Facebook campaigns and all are certainly in the realm of ad agencies. Don't be scared. Jump in. Join the party.