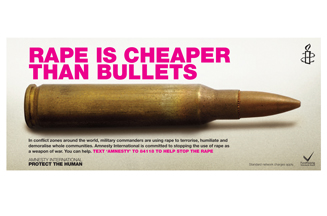 The Tube posters feature a bullet with the tagline 'Rape is cheaper than bullets'. They are intended to provoke Tube travellers to text the human rights charity to find out more about its work in protecting women and girls from violence during conflicts around the globe.
The ads, which were jointly created by Amnesty International and its creative design agency Different Kettle, are part of the organisation's 'Stop violence against women' activity and, in particular, its global campaign to ensure women and girls' needs and rights are upheld during times of conflict as well as peace and reconstruction.
The ads will appear across the London Underground until 11 March and will coincide with International Women's Day on 8 March.
Amnesty International campaigns for internationally recognised human rights for all. It has more than 2.2m members and subscribers in more than 150 countries and regions.