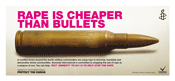 The poster features an image of a bullet alongside the caption "rape is cheaper than bullets" in a bid to spark consumers' interest in the work Amnesty International is doing to protect women and girls from violence used in conflict.

The poster will run on London tubes from 24 February in the run up to International Women's Day which is celebrated on Sunday 8 March.

A second execution featuring a phallic image of a dagger and two grenades will run alongside the poster as a newspaper insert.

The ads, which were co-created by Amnesty and the design agency Different Kettle, are part of Amnesty's global "Stop violence against women" campaign.

Kate Allen, the UK director for Amnesty International, said: "The 'bullet' ads send a clear message that rape is one of the horrific realities of many wars which is rarely discussed.

"In previous and current conflicts, such as in Darfur and eastern Democratic Republic of Congo, hundreds of thousands of women and girls - some as young as six - are subjected to horrific acts of rape and sexual violence by armed forces and their perpetrators regularly go unpunished.

"We have a global responsibility to do all we can to put a stop to such dreadful atrocities. So we're hoping that millions of Londoners will respond to these adverts and get involved with Amnesty International's campaign to stop violence against women."