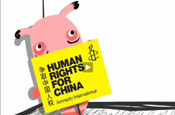 The first viral, created released 100 days before the start of the Beijing Olympics, is part of a wider campaign to highlight China's human rights abuses.
Amnesty hopes the online films will encourage people to find out more information about China's political and human-rights record in the run-up to, and during, the Olympics.
The website will allow users to write campaigning letters and emails, share content and start their own blog. Amnesty is also releasing a new booklet accompanying the film that shows "the two faces of the Beijing Olympics".
Tim Hancock, the UK campaigns director of Amnesty International said: "Amnesty is not against the Games but we want people to know what else is happening in China – including the silencing of critics and peaceful protestors – and to join our campaign for urgent human rights reforms."