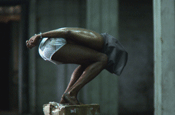 A series of three poster executions, created by Drugstore, uses images so graphic that the UK's two biggest poster operators, JCDecaux and Clear Channel, have refused to carry them.

The 48 sheets, which feature scenes of torture, illegal detention and bombsites, will run on sites owned by Titan Outdoor from the beginning of next week.

Using the strapline "unsubscribe", the posters urge people to visit a social networking site, www.unsubscribe-me.org, where they can remove their name from the electoral register as a sign of their protest against the war on terror - which, according to the site "has been used to justify acts of torture, 'rendition', discrimination and unlawful detention."

Drugstore has also created three short films, the first of which will be released in arthouse cinemas from early 2008. The film, "Waiting for the guards", shows a blindfolded, handcuffed man stripped to his underwear and crouching on a cardboard box - the so-called "stress position" used as part of the CIA's "enhanced interrogation techniques".

The campaign has also enlisted the support of Moazzam Begg, the British man held without charge for over two years at Guantanamo Bay. Begg said: "Removing freedoms gives rise to hostility and leads to terrorism; terrorism allows governments to justify the restriction of liberty. We must unsubscribe to both."