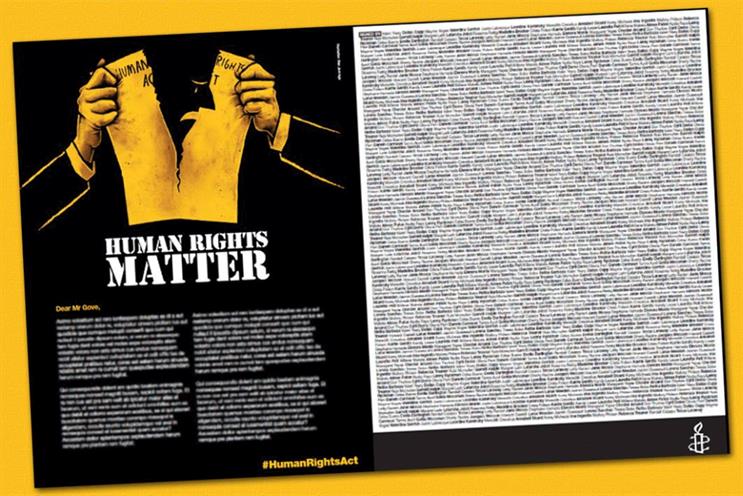 It comprises an open letter to Michael Gove, the secretary of state for justice, in which Amnesty says it is "dismayed that our new government intends to rip up the law that protects our human rights".
Above the letter is a graphic of the law being ripped up, opposite the names of 1,000 people who each pledged £10 to fund the ad.
The advocacy group said it is the first of several ads it wants to publish in national newspapers. The Telegraph is next on the list.
Kate Allen, the director of Amnesty International UK, said: "The British Government is effectively saying to dictators the world over: 'Pick and choose your human rights and pick who you think deserves them'.
"We want everyone in Britain to join us in rejecting this politics of fear and to instead stand up for hope, equality and fairness."
The Human Rights Act was enacted by Tony Blair's Labour government in 1998. It enshrines the European Convention of Human Rights into UK law. The Conservative Party, led by David Cameron, wants to scrap the act and replace it with a British Bill of Rights.
The ad was designed in-house and the main image drawn by award-winning cartoonist Ben Jennings, whose work features regularly in The Guardian.