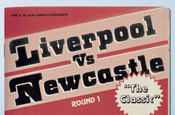 Created by Abbott Mead Vickers BBDO, the campaign looks to link the tension relief benefit of chewing gum to the most tense moment of a football match: the added time at the end.

The 11 tailored ads, in the match programmes of clubs including Liverpool, Everton, Aston Villa and Tottenham Hotspur, are art directed the style of old football programmes, and try to inspire fans to relive classic moments with copy that describes them.

Ads provide a link to a microsite (www.extra90plus.com), which carries clips of classic moments from Premier League matches and further stats and information. This will also be supported by an online banner campaign and in-stadia media.