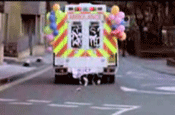 The ad, created by Mark Fairbanks for Tower Hamlets Borough Council, opens on tin cans trailing a vehicle with a "Just Married" sign also in view.
But as the camera pulls out it is emerges the car is in fact an ambulance.
As sirens blare a poster van follows behind it outlining that two women a week are killed by their partner or ex-partner.
It ends with the endline: "Domestic Abuse, No Excuse"