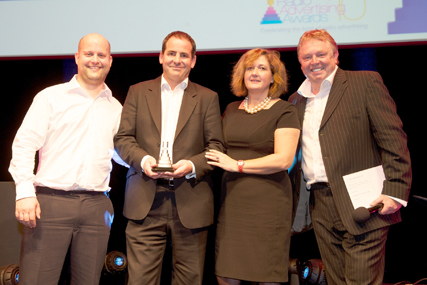 The awards, organised by the Radio Advertising Bureau and supported by Haymarket, incorporate the Aerials and celebrate the best in radio creative and planning.
Linda Smith, chair of the RAB, said Carat "shone through on a number of levels", including increased investment in radio way ahead of the market and 100% increase in campaigns measured on RadioGauge.
Mother received three prizes for its work for Frank, the COI's drugs awareness brand, including the Aerial for Most Outstanding Commercial for an Existing Advertiser, which includes a prize of £450,000 radio airtime.
AMV BBDO also scooped three prizes, including the Aerial for the Best Use of Radio to Drive Sales for its work with Vizeum for Heinz, and the award for the Best Use of Radio to Drive Awareness for its work with Carat for the Department of Transport.
AMV BBDO won £100,000 worth of air time and the Aerial for the Most Outstanding Commercial for a Charity Campaign for Kids Company's "This Christmas", which the judges described as "strong and emotionally engaging".
Universal McCann, in partnership with Global Radio, won the Aerial for the Best Use of Radio to Drive Consideration for the Windows 7 Capital Jingle Bell Ball Sponsorship campaign. The judges described their results as "astonishing".
Aerial for Best Use of Radio in a Multimedia Campaign went to the Department of Health's "Smokefree" from MCBD and MEC.
Simon Redican, managing director of the RAB, said: "This year's awards reflect much of the outstanding work which has seen our sector return to growth and build its share of the display advertising market for the first time in five years.
"Crucially they highlight the great collaboration between commercial radio and our advertising and agency customers. This evening is a celebration of the hundreds of people who have understood and harnessed the power of the medium – and then taken the time and effort to share this success with the wider industry."
The evening was attended by over 450 media and advertising execs and hosted by Global Radio station LBC 97.3's Nick Ferrari, with guest presenters Neil Fox and Mark Goodier.
Radio Advertising Awards 2010 Winners
Aerial for best use of radio to drive sales
Heinz (Vizeum/AMV BBDO)
Aerial for best writing & direction
Frank (Mother)
Aerial for best use of radio to drive consideration
Windows (Universal McCann & Global Radio)
Aerial for best campaign
Frank (Mother)
Aerial for best use of radio to drive awareness
Dept of Transport (Carat/AMV BBDO)
Aerial for best use of radio in a multimedia campaign
Dept of Health (MCBD/MEC)
Aerial for best use of radio to drive response
Volkswagen (MediaCom/DDB)
Aerial for best use of branded content
O2 (DrumPHD)
Aerial for the most outstanding commercial for a charity campaign
£1M AERIALS CREATIVE CHALLENGE
Kids Company (AMV BBDO)
Aerial for the most outstanding commercial for an existing advertiser
£1M AERIALS CREATIVE CHALLENGE
Frank (Mother/MGOMD)
Media Agency of the Year
Carat