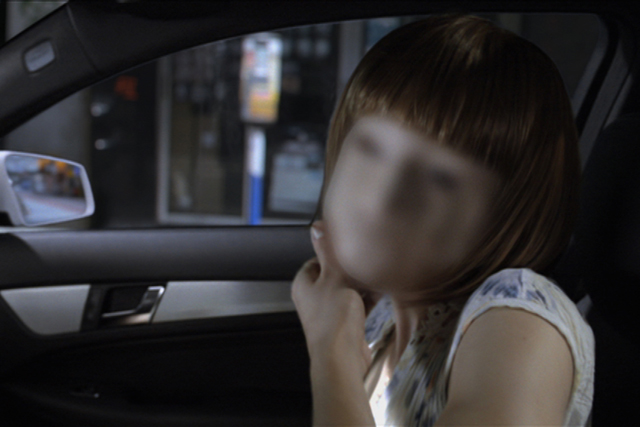 It's a tough and ambitious brief for Mercedes-Benz. How do you engage younger audiences by giving them the visceral sense of excitement they'd feel if they drove a Mercedes? To crack it, we wanted to do something completely different.
Google Maps is a fascinating, inherently "first person" application that totally blew people's minds when it was launched, so it seemed like the obvious place to start. Having successfully seen its potential with campaigns for Guinness and The Economist, we believed the idea of bringing a computer world - inspired by Street View - to life through an interactive film was the way to go.
The script we sent to Carl Erik Rinsch was about helping a trapped girl to escape a photographic maze. The idea of a dystopian map world proved to be fertile and intriguing to explore. We wanted it to feel like a strange, beguiling thriller. A place where people worship a giant compass like a god. There's a sun that never sets. The buildings are always rescaling. Characters get caught in glitches and moments in time are juxtaposed.
For the campaign as whole, the idea was to blur the distinction between the real and virtual, by using a combination of print, TV and digital media. To tell the story of our trapped girl in full, we started with a mobile augmented reality plea for help, triggered using the print and outdoor ads. A hash tag enabled dual-screen viewing. This, along with a movie-trailer-style TV spot, led to the campaign site.
As it's a first-person film, we wanted to give participants the opportunity to converse with the character as if she were real. There were also lots of ideas that we simply couldn't afford to shoot and Twitter was a great medium to get these across, helping to build her backstory. After you've helped her to escape the map, she calls you up on your actual mobile phone to say thanks. We plan to complete the campaign in the new year with her delivering the car to our overall winner.
To build our world, Carl's approach was to use photogrammetry (mapping 3D shapes from 2D images). It's deliberately not glossy, full CG. This worked out well for the imperfections we were trying to emulate. As a result of going down this route, we could set the story almost anywhere. The varied streets of Hong Kong, with its colourful signage and expansive cityscapes, suited the idea well. It's a little like the film Jumpers, in that you can be easily transported to the opposite side of the globe in a flash, just by using the search bar.
The sense that you're in some kind of weird fever dream was conveyed through the jump cuts, blurred faces and trippy dialogue. You could say it has elements of Inception and The Matrix to it but, hopefully, we've managed to create something a little different for a car campaign. There were lots of discussions between us and the team at Mercedes around how interactive to make the film itself. In the end, we all decided to keep it really simple and undemanding to get through. People just don't have time to spend ages working through puzzles and we wanted it to have as broad a reach as possible.
Music and sound design was always going to be important in setting the tone for this world. Carl called on 11:59 (comprising the Oscar-winner Atticus Ross, Leo Ross and Claudia Sarne) to produce a tension-laden theme with touches of real beauty. The sound design team at Factory then crafted some great atmospheric effects that really brought the digital glitches of the world to life.
All credit to Carl and the wizards at Digital Domain in Los Angeles for essentially rebuilding our very own version of Street View from the ground up, using hundreds of photographs of Hong Kong. As it turned out, everything in the final film was CG, except for the people and the interior of the car. And, strangely enough, in the process of shooting the "real bits" of the campaign while in Los Angeles, we were captured by the Google camera car twice.
Paul Knott and Tim Vance are creative directors at Abbott Mead Vickers BBDO.