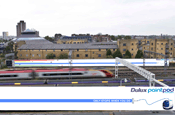 The winning poster ad, by AMV BBDO's Mike Bond and Bern Hunter, promotes the Dulux PaintPod, a gadget which pumps paint into a roller.

The creative features the Dulux PaintPod roller beating four others to produce a line of paint that fills the entire 73m x 3m billboard, with the tagline 'It only stops when you do'.

The competition judges were Paul Miles and Adam Staples from Ogilvy Advertising, Mark Fairbanks from AMV BBDO, Steve Cox, the marketing director at Titan Outdoor, and Paul Burke, a freelance creative.

The winning team receives a luxury weekend for two in Paris and a free two-week campaign on the site. The Dulux poster ad will run in the coming six months.

Cox said: We were looking for an execution that makes full use of the unique dimensions of this impressive new site. Mike and Bern's idea just blew us all away."

The line on which the site sits connects to the North West, West Midlands, North Wales and Scotland and is seen by around 1.2 million people every two weeks.