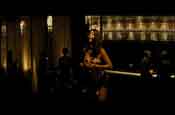 The action begins in a darkened club as a pole dancer seductively performs her sexually charged dance to a re-worked version of Underworld's Born Slippy, which is slower and sung by a woman.
As the dancer moves through her routine she slowly begins to remove her clothes.
As the camera moves closer and she unclasps her bra the viewer is confronted with the shocking image of the results of a mastectomy, she only has one breast.
This is the latest cinema ad from Abbott Mead Vickers BBDO for the breast cancer charity, Against Breast Cancer.
The ad is designed to tap into our voyeuristic sexually charged culture to draw people in, and then use shocking images to jar the viewer into realising that breast cancer can affect anyone, and that women should check themselves regularly.


Project: Breast Cancer
Client: Pat Leathem, Against Breast Cancer
Brief: To raise awareness and get young women to check their breasts
Creative agency: AMV BBDO
Copywriter: Selda Enver & Shaheed Peera
Art director: Selda Enver & Shaheed Peera
Agency Producer: Paul Goodwin
Planner: Selda Enver
Media Agency: PHD
Media planner: Rocket/Carlton Screens
Production Co: Gorgeous
Director: Tom Carty
Production Co Producer: Ciska Faulkner
Post-production Co: The Mill
Audio post-production: Wave
Editor: Paul Watts.