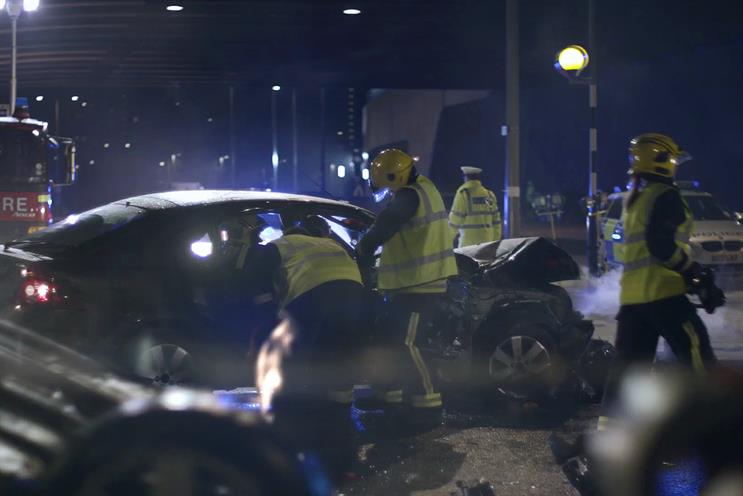 When the Department for Transport awarded AMV its entire business in 2013, the challenge was radically different to that of previous years.
DfT's ambition to reduce the number of people killed or seriously injured on UK roads remained as important as ever.
And demand for high profile work remained too. TV commercials such as "lucky", "live with it", and "Julie" had proved incredibly resonant with the public.
But the landscape was now very different, with no budget for traditional TV.
As part of government-money-saving during the recession, the DfT had significantly cut its road safety comms budgets.
We needed a new strategy to generate awareness without buying the views.
Our answer was to use the power of bold ideas and subject matter to generate TV scale awareness through PR and online views. We'd continue to build on real insights, but we also needed talkability and shareability. Ideas needed to intrigue and even provoke as well as engage.
We also believed that production companies see the benefit of working on ideas that are compelling even when budgets aren't. Experience on campaigns such as the Metropolitan Police's "choose a different ending" and "who killed Deon", both shot for under £50,000, proved that.
Our first work, an anti-drink drive commercial called "morning after" required an actor to drink six double G&Ts and three large Merlots (with a nurse on standby) before recording a voice-over. In the film, the now-sober actor attempted to lip-synch to his drunken voice. The double-BAFTA-winning director Dominic Savage filmed the result in our boardroom and picked up gold and silver at the British Arrows.
To warn of hidden dangers on country roads, "transparent", a video-on-demand film, used surveying technology to show a world where, unlike drivers, viewers could see around corners. Shown as a news item on BBC Breakfast, ITV and Channel 4 News, the campaign reached an estimated 26.8 million people with PR worth £1.5 million. It was the most read story on BBC News and attracted over 2 million views.
A 16-minute web series, Never Too Good, reminded riders that there is always more to learn by showing the superbike world champion Chaz Davies learning advanced motorbike skills alongside the comedian Alan Davies. The series attracted 470,000 views on YouTube, with ROI for recognition scoring on par with previous government advertising that ran on TV. It also had many comments calling for the series to be made into a programme. As a result of the films, 43 per cent of those who watched them said they would sign up to further training.
After 50 years of campaigning, the number of deaths caused by drink driving has dropped from 1,640 a year to 230. To highlight the job still left to do, "celebrate", a shocking online film showed emergency services singing Kool and the Gang's Celebrate while attending a fatal car crash. The film garnered huge coverage in mainstream media as well as over 680,000 organic hits on YouTube.
The success of these campaigns led to us also making films for bodies such as the Maritime and Coastal Agency. "Dragged out to sea" employed a heart-rending real-life recording of a child's distress call, to encourage people to ask for the Coastguard in a coastal emergency. Again, the idea attracted top directing talent for a total budget of £21,000 for the film and teaser content. It became the largest-scale public-facing production that the Coastguards have released.
A huge amount of work in DfT's first year as a non-broadcast advertiser.
A difficult year, of risk and hard work, for which we at AMV are incredibly grateful to everyone at production companies Mad Cow, Point Blank, Rogue Films, Pulse Films and We Folk. And to everyone at DfT, too.
But a year that showed sometimes adversity and the need to think differently and boldly can produce surprisingly positive results.
Loraine and Jones are the deputy executive creative directors at AMV BBDO.