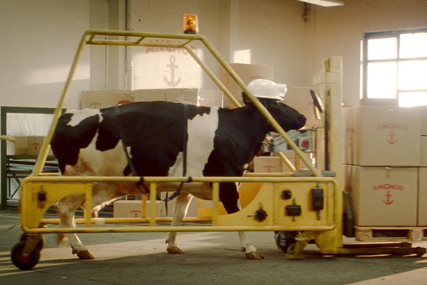 The TV ad, created by CHI & Partners, features cows working in the Anchor dairy and will use the tagline 'Made by cows since 1886'.

The tongue-in-cheek spot, which launches in mid-May, shows Anchor Butter cows making butter in the dairy.

The hard-working Fresians clock on in the morning, queue at grass-dispensing vending machines during break-times and pack up the delivery lorry at the end of the day.

The brand has positioned itself as the 'Freerange Butter Company' in previous campaigns by CHI & Partners.

Country Life launched a campaign fronted by former Sex Pistols frontman John Lydon, which attacked Anchor for not being British, in May last year. The campaign, which was by Grey London, had the strapline: "Anchor's from New Zealand."

A spokeswoman for Anchor stated that the brand was founded in 1886 and created by a Cornish dairyman, Henry Reynolds, who emigrated to New Zealand and then exported Anchor butter back to the UK.

The new Anchor TV ad will also be broadcast in cinemas in June targeting women aged 35 to 54, with the aim of capitalising on the increased attendance of females during the World Cup.

Arla Foods called a review of its media planning and buying across Europe earlier this month, inviting agencies to compete with incumbent Carat.