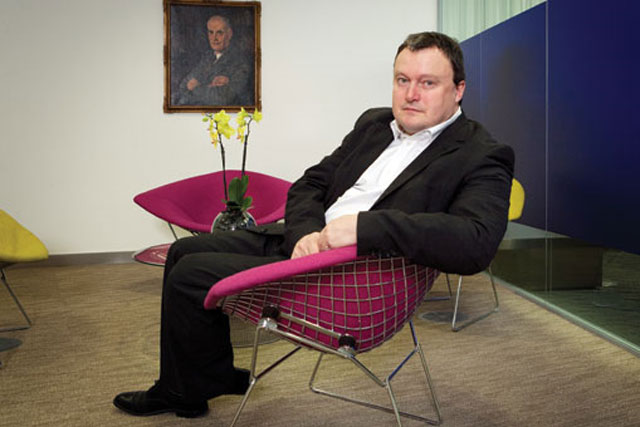 At the end of March, Guardian News & Media is inviting the public to an open weekend at its King's Cross office in London.
Unlike The Guardian's online content, though, the live experience isn't free. Some of the more economically challenged denizens of N1 might argue that a weekend ticket price of £60 is hardly the most open and democratic entry point.
But The Guardian is determined to push its openness mantra at all costs. Andrew Miller, the chief executive of Guardian Media Group, is keen to extend this philosophy to both readers and advertisers as it looks to build on the heady editorial successes of last year - phone-hacking, WikiLeaks and its lauded coverage of the Arab Spring.
Miller's reaching-out strategy extends further than tea and biscuits with Charlie Brooker at the office.
The Guardian is planning a new branding campaign, created by Bartle Bogle Hegarty, which breaks at the end of this month. Industry speculation suggests that the budget for the campaign stretches to £5m.
And Miller, an engaging Scot who strides around his top-floor office with purpose, extends the openness agenda to Campaign (thankfully, he doesn't make us pay).He leads a tour around the vast open-plan floors to meet technology developers working on the latest iterations of The Guardian's Facebook app and a trial of a Google TV channel in the US. This is the antithesis of a gated, paranoid media organisation.
As the Leveson inquiry grinds on and the phone-hacking scandal continues to unfurl, there could be commercial capital to be made from the journalistic successes of recent times.
The man charged with extracting this value has not had an easy time since taking over the chief executive job from Carolyn McCall in July 2010. An accountant by background, Miller had to wrestle with burgeoning debts against the backdrop of structural decline for the newspaper industry.
Last summer, he unveiled results that, while improved on the year before, showed a £9 million profit for the group but an operating loss of £38.3m at GNM. The newspaper losses were offset by the performance of its group assets, Trader Media and Emap, but GMG was forced to use £63.4m of a cash and investment reserve that underpins The Guardian's future under its unique Scott Trust structure.
Miller says: "I've made it clear to everyone that the financial position of The Guardian is not sustainable and we're going through a transformational plan, trying to move from being a newspaper-only organisation to a much broader organisation, based around The Guardian, for which the newspaper is still a very important part."
At some point, Miller could look to sell GMG assets to support the newspapers, but he says this is not currently on the cards.
Speculation has surrounded a sale of its radio interests, but Miller says: "The radio business is very exciting. With the growth, particularly of Smooth Radio as a national brand, it shows there's really strong life in good brands. And at some point, we will look at what to do with those assets. Are there any plans to do that now? No."
Digital first
While there have been job and format cuts at the newspapers, there has also been a flurry of investment to support their "digital first" content strategy.
Miller reiterated at last month's Oxford Media Convention that GNM remains committed to supplying free content online and has no plans to introduce a paywall, but it is experimenting with a mixed commercial model.
Its Guardian iPad edition launched with an initial three-month trial period and is now available for a £9.99 monthly subscription. Miller says it's too early to say how many have subscribed, but adds that the numbers are "interesting and exciting".
Miller is also excited about The Guardian's Facebook and Spotify apps - the former of which has been downloaded five million times with a profile that is skewed towards 18- to 30-year-olds.
While the journalism that drives these products is very much the responsibility of the editor-in-chief, Alan Rusbridger, one source close to GMG says of Miller: "Andrew has brought digital, commercial and financial acumen.
Alan has a sweeping, global outlook of where journalism needs to head and Andrew has the commercial ability to help make this happen. He's also a very good team builder - he ruffles feathers, but all to take things in the right direction, so he's respected for that."
After qualifying as an accountant, Miller held finance and general management roles at PepsiCo's Frito-Lay division, Bass and Procter & Gamble before spending six years as the chief financial officer at Trader Media Group and stepping up to the chief finance role at GMG a year before he became chief executive.
He says his experience of brands and marketing at FMCG companies, combined with that of turning Trader into a digitally focused business, has helped in his current role.
Aside from the delivery of content across channels, the challenge for Miller and the commercial director, Adam Freeman, is to engage with advertisers to maximise revenue.
Its annual report last year revealed that display advertising in its print titles was down by 14%, broadly in line with the market. Digital revenues will rise to £45m this year, but will not cover the shortfall.
Global reach
So GNM must leverage its audience across platforms and markets, which explains why it's committed to not installing a paywall. Scale and reach are becoming its argument (it has more than 60 million global online users).
Its investment in the US has delivered an online audience of 20 million and it is working on increasing ad rates to fit this audience.
Its own research shows that its content across all channels is read by 5.3 million UK adults each week. By comparison, Miller says the same research shows Telegraph Media Group's products are read by 5.2 million.
He now faces the challenge of leveraging these cross-channel figures in a notoriously difficult market, where media agencies are keen to trade off print copy sales (The Guardian's was 230,108 in December last year, down 13% year on year, and The Observer's was 266,659, down 11.5%), and are wary of paying for a total audience.
This is reflected in the view of one senior buyer, who is willing but yet to be convinced: "It's a fantastic product, but the numbers are not very big compared with the rest of the market. Andrew may have got the ship steady, but it's haemorrhaging money and paper costs are going through the roof.
They tell us they've got the numbers, but they need to get out there more and sell it to us."
Miller intends to do exactly that: part of the branding and communications campaign will focus on its commercial audience. "My belief is that, if we continue to grow audience across all media types, then we will win over time due to the digital transition that is going on in the marketplace," he explains.
The Guardian will first need to triumph in the argument over the value of content and whether open doors can generate greater commercial value than bolting them shut. Yet, as its open-day door charge, newspaper coverprice and iPad subscription fee show, it does not have a black-and-white approach to the issue. With Miller in its corner to push this pragmatic tactic, it just might succeed.
The lowdown
Age: 45
Lives: Newbury, Berkshire
Family: Wife, Helen, and three children: Calum, Iona and Ewan
Most-treasured possession: 50-year-old bottle of Macallan whisky
Last book read: Dark Matter by Michelle Paver
Interests outside work: Family, friends, piano, music, wine and skiing
Favourite gadget: Swiss Army knife