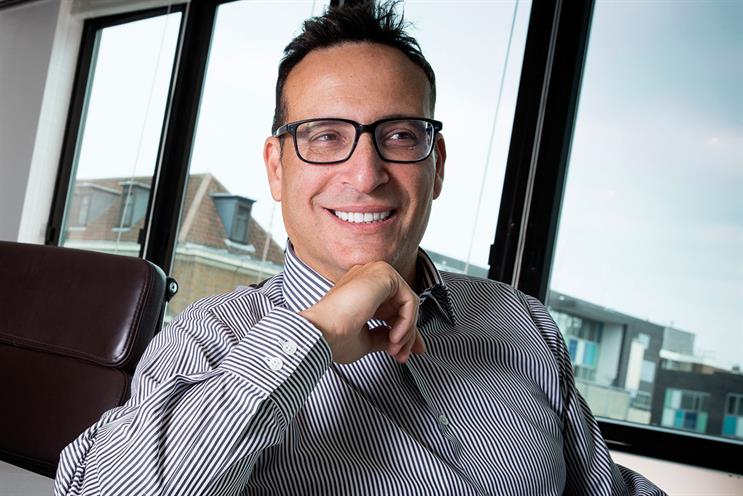 Andy Hart, Hearst Magazines International's senior vice-president, chief revenue officer, hates his new iPhone – as you might expect from a former Microsoft man: "Everything's in the wrong place! You can't search for things as you should do."
Hart was previously the vice-president of advertising and online at Microsoft Europe. In June, when the tech giant decided to outsource its sales team to AOL, he decided not to be part of that move.
"I spent a long time making the decision and spoke to my family about it in-depth. There is a reason that people say Microsoft is the best company to work for in the world," Hart explains. "It was an amazing experience – the people are brilliant and I learned more about business, management and myself in the last four years than the other 24 years of my career. It was very hard to say goodbye.
"What I won't miss is being a media man in a tech company. I had to learn to speak a different language; things had to be explained every day. That created a creative tension, but Microsoft treated me very well."
That said, moving to AOL was a different story.
"There's a lot of senior management there already; I didn't see a role different enough for me," he continues. "And I had four years there, so I was ready for a change. When you don't see a clear path, it is time to go."
The self-confessed Trotskyite got his first job in media sales in 1987 after a stint at a bank in Israel – a job he hated but had seemed the sensible option after completing an econometrics degree at the University of Manchester.
Following his return to the UK, Hart began applying for graduate sales jobs listed in The Guardian's classified section. He was persuaded to go into media by a friend.
That friend was Stephen Miron, now the chief executive of Global – not a bad contact to have for someone working in media. Hart now wants to attract that network of contacts to Hearst, where he has been for eight days at the time of Campaign's interview.
As Hearst's chief revenue officer, Hart is responsible for growing the business in all 80 of its markets outside of the US, as well as accelerating the company's transition to multiplatform.
So far, Hart has been impressed by the digital maturity of the publisher – no mean feat considering his previous employer.
"I just had a programmatic conversation as sophisticated as you would have had at Microsoft, and this was with one of our regional chief executives at Hearst," he says.
Hart believes editors – particularly for Hearst's big titles, such as Cosmopolitan and Good Housekeeping – will be increasingly seen as commercial operators who make decisions about native advertising and branded content. But he doesn't think the lines of editorial and commercial are blurring too much: "There is obviously a grey area. What we will see going forward is that the grey area gets bigger, but it doesn't mean there should be a conflict."
The 49-year-old is no stranger to being a digital cheerleader in a print business, having previously been the managing director of Daily Mail and General Trust's digital division. Hart recalls the editorial department's resistance to MailOnline, which he helped launch.
He says: "You wouldn't believe how they resisted it. Paul Dacre [the Daily Mail's editor] didn't even have a computer in his office. We were lucky if we could get three news stories published in a day."
MailOnline would go on to become the most popular English-language news website in the world. Hart says the teams at Hearst understand the opportunities of digital but have further to go to offer more "creative" native content across markets and titles.
He wants to see bigger deals with leading brands: "As the world globalises and becomes more connected, these big global brands want to build their messaging and incorporate scale across the world. It is good business for advertisers and for us. We can invest more in creative solutions and the customer can get more bang for their buck."
Hart admits to being daunted by the job, and there are certainly challenges ahead. Take Cosmopolitan, whose ABC figures for the first half of the year showed digital (tablet) circulation falling by 25.1 per cent, with print circulation down 10.2 per cent. While innovations such as Cosmopolitan's Snapchat channel have been viewed as a success, it is unclear whether the titles can generate enough revenue streams as they transition to a multiplatform world.
Lucy Banks, the executive creative director at Bauer Media, thinks Hart is the right person for the job: "He has a wealth and breadth of experience from the worlds of advertising, publishing and digital – and, most importantly, can understand the value to be gained at the intersection of these.
"He also 'gets' and respects quality creative content and is exactly the sort of person a modern publishing business needs to help evolve and recalibrate the model for both audience and client partners. He's energetic, passionate and has the international expertise required."
That digital experience should help Hart hit the ground running at Hearst – even if it takes him a while to work out how to use his phone.