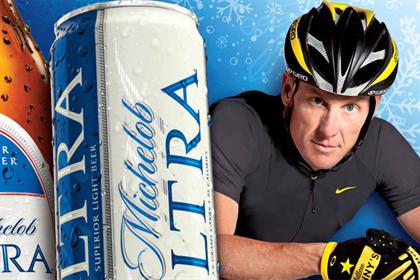 The news comes just hours after sponsor Nike announced that it too had decided to end its sponsorship of the cyclist.
Armstrong had been a spokesman for Anheuser-Busch's Michelob Ultra. Last week the brewing giant stood by Armstrong but Paul Chibe, vice-president of Anheuser-Busch's US marketing, has just issued the following statement:
"We have decided not to renew our relationship with Lance Armstrong when our current contract expires at the end of 2012. We will continue to support the Livestrong Foundation and its cycling and running events."
Last week, a report from the US anti-doping authority US Anti-Doping Authority, said Armstrong ran "the most sophisticated, professionalised and successful doping programme that sport has ever seen".
Earlier today Armstrong stood down from his position as chairman of the Nike-backed cancer charity Livestrong.
This afternoon Nike said in a statement: "Due to the seemingly insurmountable evidence that Lance Armstrong participated in doping and misled Nike for more than a decade, it is with great sadness that we have terminated our contract with him.
"Nike does not condone the use of illegal performance enhancing drugs in any manner. Nike plans to continue support of the Livestrong initiatives created to unite, inspire and empower people affected by cancer."