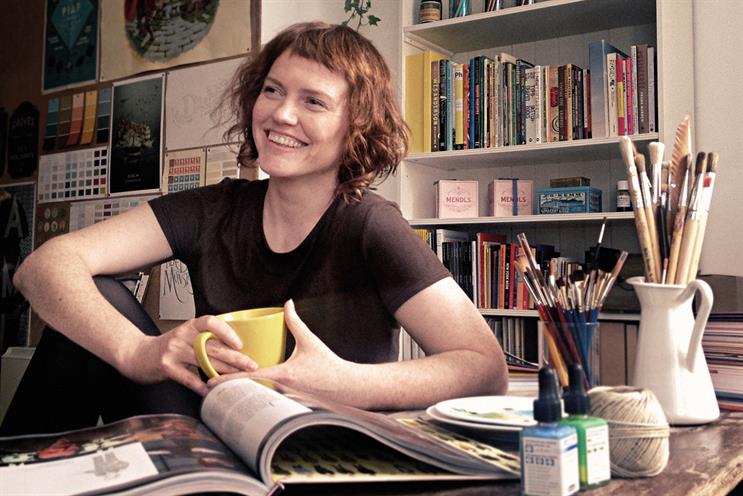 Annie Atkins' artistry is in the details: as a graphic designer, she helps bring film-makers' imaginations to life by making props and set pieces for movies and television.
She is best known for her work on Wes Anderson's The Grand Budapest Hotel, creating the prison escape maps, telegrams and pastry boxes that coloured the fictional Republic of Zubrowka. She has also worked on Steven Spielberg's Bridge Of Spies and the TV series The Tudors.
Atkins talks to Campaign about her stint in advertising, working with Anderson and why it feels like she has joined a circus, ahead of her talk at the D&AD Festival.
What did you want to be when you grew up?
My dad was a graphic designer so that's what I wanted to do too. I pictured myself at a drawing board like his.
You used to work at an agency. Why did you make the leap to graphic design for film?
I worked for McCann in Reykjavik for four years. It was great fun, especially living in Iceland. But I got tired of design for advertising, so I applied to film school in Dublin. I liked the idea of making tangible things – everything we make has to work in an actor's hands.
What was your big break?
My first job was on The Tudors, a series about Henry VIII. I got it through my film degree when I met a visiting lecturer, Tom Conroy, who was the show's production designer. My degrees – a BA in visual communication and a master's in film production – gave me my break. It's a lot of study but, with film graphics, you need to know your onions in both design and film-making.
What does your day-to-day job entail?
In a film art department, I start at 8am and spend the day juggling design work; talking to suppliers, the prop master, set decorator and production designer about various requirements; and trying to wrap my head around the shooting schedule and graphics breakdown.
You try to get as much done as possible during the prep, which is about six weeks long – because, as soon as the camera's rolling, time is against you. We finish at 7pm, then it's home, dinner and bed before it all starts again the next day.
What's the most challenging part of your job?
It's a high-pressure environment and everything's always going wrong. Every project is different and a learning curve. You have to constantly adjust to new genres, periods and crews. But it's exciting and interesting. It feels like I ran away and joined a circus.
As a Dublin resident, what's your advice for people who want to work in film but not live near Hollywood?
I've never set foot in Hollywood! You should study film-making and graphic design, then apply for an internship at a local film or TV studio. It's best to start local.
We made Penny Dreadful in a little seaside town in County Wicklow, so you never know what's going on around the corner.
What was it like to collaborate with Wes Anderson?
Working with Wes is a real treat. He's an auteur director, so it's very much his own artwork, and I help him turn his ideas into tangible objects. He's always taking me in different and unexpected directions – he's very experimental. I'm working with him again now so every day is a new adventure.
What was your favourite creation in The Grand Budapest Hotel?
I love the Mendl's boxes. Unfortunately, I put a spelling mistake in "patisserie" so we had to fix it in post-production. Sometimes, I see one for sale on eBay – but I know if it's really from the film or if it's a fake by the spelling.
What's your dream project?
The most important thing is that the script is set in a time or place that gives you great scope for interesting design. I love period film-making and usually jump at anything set pre-70s.
However, I recently worked on Ang Lee's upcoming film [Billy Lynn's Long Halftime Walk], which is set in 2004. You'd think the graphics would be the same as today but styles have taken a huge shift over the past ten years.
How do you get out of a creative rut?
Getting away from work! I walk in the forest with my other half and we spend time cooking. We hardly ever go to the cinema. It's nice to get away from screens.
What's next for you?
Aside from working with Wes again this year, I'm running weekend workshops from my studio in graphic prop-making. Students visit from all over the world – most have a lot of experience in graphic design but hardly any in film, so it's great fun introducing them to this world.