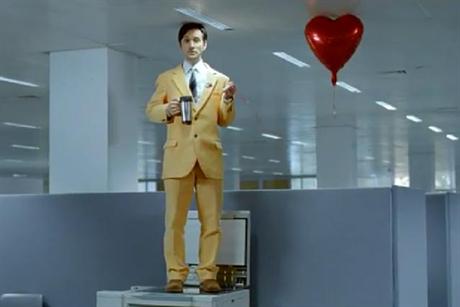 1. More Th>n, 'courtesy car'
Use of such a distinctive voice means that More Th>n's radio ads are as memorable as its TV work.
Agency: SFW
Writers: Fred Rodwell, Andy Parsons
Agency producer: Larissa Miola
Facilities house: Grand Central
Sound engineer: Ben Peeves
Script
We open with a beautiful, classical song - similar to Suds On The Roof from The Shawshank Redemption.
SFX: A car motor purrs along the open road.
More Th>n: When you wrestle a gorilla, you don't stop when you're tired; you stop when the gorilla's tired. (The car motor stops.) That's why, if you have a prang and your wheels just aren't turning, the good folks at More Th>n could send you a courtesy car within two hours. (The car motor starts again.) To find out more, visit morethan.com. I'm More Th>n Freeman, thank you for listening.
Legal supers: Excludes Northern Ireland. Offer may be withdrawn at any time. Terms and conditions apply. Comprehensive cover only using our recommended repairers. Excludes total loss.
2. ING Direct, 'crocodile'
This campaign set out to avoid the dull-but-worthy pitfalls of bank advertising by presenting aphoristic little vignettes in the style of children's fables - and it highlights ING's proposition that customers should never be kept waiting.
Agency: Beattie McGuinness Bungay
Writer: Simon Bere
Agency producer: Anna Murray
Facilities house: Wave Studios
Sound engineer: Jack Sedgwick
Script
Narrator: A hungry bird said to a crocodile: "Those bits of meat stuck between your teeth - I could do with them."
"No worries," the crocodile said. "Dive in. I've had a good nosh. Why shouldn't you?"
Next day, the grateful bird brought all his friends to the river and, from that moment on, the birds were never hungry and the crocodiles never had to fork out for a hygienist. And the moral is: goodwill spread around gets around.
VO: This story was brought to you by the lion and ING Direct, 92 per cent of whose mortgage customers would recommend them to a friend.
ING Direct. A decent way to do banking.
Ninety-two per cent based on ING Direct customer satisfaction survey, April 2011. UK residents, 18+. £50,000-£1,000,000. Subject to status.
3. Honda, 'research and development'
Garrison Keiller hones his Midwest folksiness in the cause of those lamentably unsung heroes in the Honda research and development team.
Agency: Wieden & Kennedy
Writer: Hollie Newton
Agency producer: Emma Wright
Facilities house: Wave
Sound engineer: Aaron Reynolds
Script
Garrison Keillor as the voice of Honda: Sometimes you get more done without a boss. Not that leadership isn't valuable. It's just that, when you don't have anyone looking over your shoulder, you often come up with better stuff. At Honda, we run our research and development team as a separate company, giving them room to mess around, doodle, try, fail, try again - and eventually come up with something that surprises them as much as it surprises us. Do you believe in the power of dreams?
4. Autoglass, 'chipped windscreen'
This ad was particularly praised by the Radio Advertising Bureau RadioGauge scheme for the way in which it demonstrated the enduring power of using consistent audio cues either in standalone radio work or in campaigns across radio and TV. It also continued the Autoglass strategy of using the voices of real technicians to build an approachable and reliable brand image.
Agency: Radioville
Writer: Ben Fairman
Agency producer: Liz Carter
Facilities house: Marmalade Studio
Sound engineer: Dave Poole
Script
Jingle: Autoglass repair. Autoglass replace.
VO: Ian, 33, technician for Autoglass.
Ian: When a customer at Autoglass got a chip on her windscreen, it cracked while she was driving to the shops. She phoned our UK-based call centre and I went out and replaced her screen. Which she was happy with. But her insurance excess took the smile off her face. £80! Thing is, she could have called Autoglass when she first got the chip and saved that money with a repair instead. Booking an appointment couldn't be easier. You can now even do it online from your mobile phone and we'll be out to wherever's convenient for you. The job's quick too - 30 minutes and you'll be on your way again. So you can get on with your day. Plus, if you're fully comp, a repair is usually free for you and won't affect your no claims. Quick, free, convenient. Easy.
VO: Call Autoglass directly on 0800 234 234. Or book online at autoglass.co.uk.
Jingle: Autoglass re ...
Ian: One more thing. Most insurance companies recommend Autoglass, so no need to call them. Call us direct.
Jingle: Autoglass repair. Autoglass replace.
5. Barclays, 'sound da big ting'
This has been praised not just for its writing but, more broadly, for its awareness that students really do resent the way they're regularly patronised in advertising campaigns from banks.
Agency: Bartle Bogle Hegarty
Writers: Matt Powell-Perry, Mat Joiner
Agency producer: Sam Brock
Facilities house: The Mill@BBH
Sound engineer: Ian Lambden
Script
Newsreader voiceover: Sound da big ting. Barclays Student Account has been voted number one by students in the Moneyfacts Awards. And because students helped to make the account, and did a fabberdazzer job B-T-W, the peeps at Barclays asked them to help write this radio commercial too. Skillimanjaro. The account is bad-boy ballistic, so, totes, check it out on Barclays' website. The Barclays Student Current Account. Awesome sauce. Ciaoabunga dude roosters.
6. Dolmio, 'lasagne'
Dolmio wins its place here for the way that it has successfully migrated what were essentially televisual branding ideas (principally its charming puppet caricatures) on to the radio medium.
Agency: Proximity London
Writers: Markham Smith, Richard Dennison
Agency producer: Laura Burridge
Facilities house: Grand Central Studios
Sound engineer: Gary Turnbull
Script
Italian mama: To getta de family rounda da table, you could try a ...
SFX: Fire bell.
Italian mama: Or a ...
SFX: Hand bell.
Italian mama: Or ...
SFX: Klaxon.
Italian mama: But I prefer the aroma of a delicious Dolmio. Get together with a delicious homemade Dolmio lasagne. When's your Dolmio day?
7. Cravendale, 'opposable thumbs'
Having ditched its cast of wackily animated plastic figurines, Cravendale's TV work now features an even wackier cast of mutating moggies - and this spot demonstrates that it's possible to evolve a primarily visual idea into a credible radio soundscape.
Agency: Wieden & Kennedy
Writers: Sam Heath, Chris Groom, Hollie Walker, Freddie Powell
Agency producer: Kate Ashton
Facilities house: Wave
Sound engineer: Jack Sedgwick
Script
VO: Why do cats stare when you're pouring milk? Scary the way they watch. It's like they know it's only a matter of time.
(Tense, staccato, thriller-style music begins quietly in the background and starts to build slowly and steadily towards a crescendo.)
VO: Time! The only thing between them and opposable thumbs. Imagine that! Cats with thumbs.
SFX: A sly cat's meow.
VO: And what if they got together? Gangs of cats with thumbs. An organised army with one thing on their mind. Pure, filtered Cravendale. Well, jog on, kitties. It's ours. Cravendale. The milk matters.
8. Comparethemarket.com, 'meerkat toy'
No review of the year in any medium would be complete without a mention of the ubiquitous meerkat. This radio work helps to illustrate how relentlessly consistent Aleksandr's characterisation is across all media environments.
Agency: VCCP
Writers: Javier Romartinez, Matt Lyodd
Agency producer: Carly Parris
Facilities house: Wave Sound Studio
Sound engineer: Stuart Welch
Script
SFX: Phone ringing.
Mr Fisher: Hello.
Aleksandr: Hello! (then slightly more hesitantly) Mrs Karen Fisher?
Mr Fisher: No. This is Karen's husband.
Aleksandr: Congratulations, er, Mr Husband of Karen. Ha! Because your wife recently insured saloon car through comparethemarket.com, cuddly meerkat toy is on its way to your Mrs Spouse.
Mr Fisher: Er ...
Aleksandr: Goodbye, Mr Karen.
Aleksandr (in voiceover mode): To get exclusive meerkat toy, buy car, van, home or pet insurance through comparethemarket.com. Simples!
9. FT Weekend, 'smart but casual'
This won RAB plaudits for its creative use of music. Here, in contrast, a familiar piece of piano music, Mozart's Turkish March, begins with its usual uptight military vigour ... but then begins to acquire swing as it mutates into a jazzier style.
Agency: DDB UK
Writers: Nikki Lindman, Toby Brewer
Agency producer: Rachel Amess
Facilities house: Clearcut
Sound engineer: James Clark
Script
Music: Mozart's Rondo Alla Turca at a brisk tempo; modulating into a jazz idiom.
VO: With all the intelligence of the original, just a bit more relaxed. FT Weekend. Smart but casual.
10. Persil, 'Small & Mighty'
We're including this (not quite entirely as an afterthought) even though the campaign ran into controversy following a complaint by a rival advertiser - but many in the industry reckoned this was creatively the best ad to run on the radio medium during 2011.
Agency: Bartle Bogle Hegarty
Writers: Robin Warman, Harry Orton
Agency producer: Sam Brock
Facilities house: Jungle
Sound engineer: Gez Lloyd
Script
VO: Persil asked kids what they think are the toughest stains.
Kid one: Oh ... that's a hard one.
Kid two: Yeah, isn't it? It's hard.
Kid three: Blackcurrant. It's black and purple so you can see it more.
Kid four: Mud!
Kid five: Mud!
Kid six: Brown sauce.
Kid seven: And all sorts of, like, runny food.
Kid eight: You need to wash it really, really hard.
Kid nine: Felt tip pen.
Kid ten: That's the hardest one.
Kid eleven: Chocolate ice-cream!
All: (Laughter.)
VO: New Persil Small & Mighty is now better than ever with unbeatable results on tough kids' stains.