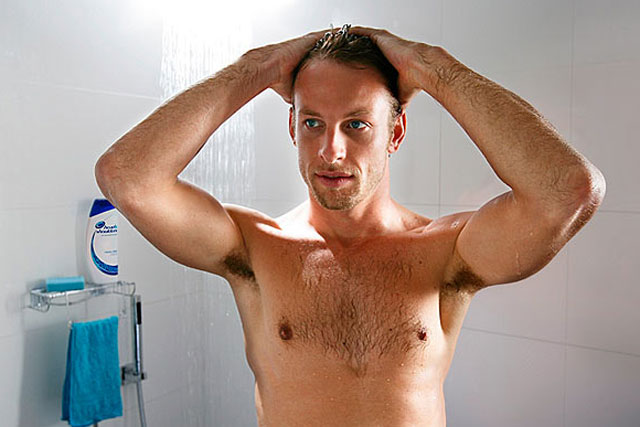 1. Head & Shoulders, Jenson Button
We all like Button at Campaign, but we can't forgive him for appearing in this cheesy monstrosity. Even his famous charm is not enough to stop us cringing every time this Saatchi & Saatchi ad appears. We're just glad that his racing career is thriving, because Hollywood certainly does not beckon.
2. BritBingo, Gavin Henson
While his Wales team-mates were out in New Zealand being screwed over by a dodgy ref (not that we're bitter), Henson was back at home starring in terrible ads for bingo websites. We're not sure what's worse, his acting or his dancing – but the only way Henson could demean himself even further is if he starred in a dodgy Channel 5 reality show in which he embarked on an embarrassing search for a new girlfriend.
3. Eurostar, Jarvis Cocker
Another celebrity that we actually quite like but simply has to be included in this list. Quite how this ad, created by the Paris-based Leg, came to air is still a mystery, simply because we can't believe that a client would sign it off. The storyline is a mess, the CGI is terrible and the choice of celebrities seems completely random.
4. Just for Men, Luis Figo
As someone who played for both Barcelona and Real Madrid, Figo is a man who is used to being disliked. But he has managed to stoop to a new low with this cheesy spot, which makes those Tiger Woods/Roger Federer Gillette ads look like Academy Award winners.
5. Bernard Matthews, Marco Pierre White
Pierre White starred in two ad campaigns this year. The one for Knorr was bad enough, but his turn in Isobel's Bernard Matthews ads was even worse. It was always going to be a stretch to mimic 'The Trip' – one of the funniest TV programmes in recent memory – and when the conversation is centred on turkey, then you've got no chance at all.
6. Flora, Vernon Kay
"It looks a bit weird, doesn't it?" Kay says to his mum in this ad when she shows him the new Flora Cuisine cooking oil. But, really, the weirdest thing is why Unilever and DDB UK thought that getting the presenter to star in this spot would make it anything other than awful.
7. Venky's, Blackburn Rovers
What is it with football teams and bad ads? You have probably all seen the terrible Casillero del Diablo commercial featuring some Manchester United players, but even worse is this ad for Venky's chicken, starring the Blackburn Rovers squad. The club has put in some bad performances this year, but this one was the worst of the lot.
8. Schweppes, Uma Thurman
The only thing we can conclude from this Fred & Farid spot is that Schweppes must be paying celebrities a lot of money to feature in its ads. The premise and script are baffling, and Thurman's uncomfortable performance shows that she knows exactly that.
9. Very.co.uk, Diana Vickers
We cringe at even crediting Vickers - someone who came fourth in 'The X Factor' a couple of years back – as a celebrity, but this ad from VCCP cannot be ignored. Not only is it patronising, but it features the worst acting you're likely to see for a very long time.
10. Isme, Lynda Bellingham
From starring in one of the best-loved ad campaigns of all time (the Oxo ads, for the three of you who don't know) to appearing in Addiction London's series of terrible TV spots for a home-shopping catalogue company. Could Bellingham stoop any lower?