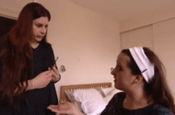 In the lead up to the launch, Luke is starring in a documentary on fame, 'Natalie Cassidy's Real Britain', which airs tonight at 8pm on BBC Three.
The signature make-up range will be the second intellectual property venture to be launched in the UK by Anomaly, which divides its revenue streams equally into part-advertising fees, part-IP share.

Luke, Anomaly and the manufacturers will own the make-up range, called By Lauren Luke, which is set to launch at the end of this month.

Anomaly in New York will handle the business strategy, category marketing, branding, audience strategy and communications, including sourcing a number of suppliers for the different products. Paul Graham, the founding partner of Anomaly in the UK, will handle UK sales.

Anomaly is currently working on other products, including a book and a website, www.bylaurenluke.com.Since joining YouTube in July 2007, single mum Luke's unedited make-up tutorials, filmed in her bedroom in South Shields, have built up a huge fan base.

Her channel, under the username Panacea81, is one of the top two YouTube pages in Great Britain. Her fame has reached such heights that she has met the Queen, is a beauty columnist for The Guardian and could star in a Nintendo DS game.