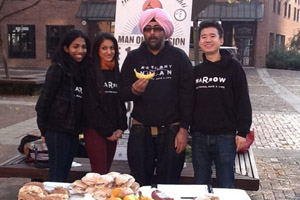 The Man on a Mission campaign launched on Saturday (12 November) and aims to recruit 2,000 new donors to the charity's stem cell register, particularly men aged 18-30.
Digital communications agency Albion organised the campaign, which will see comedian Singh Kohli visiting public events, schools and universities as well as performing impromptu standup routines in public places like Tooting Market and Brick Lane.
Anthony Nolan communications officer Ellen Marshall told Event: "One of the biggest problems that we face is raising awareness of the register, so we thought that getting someone to engage with people as they are going about their daily business is a really good way of getting people to stop and think about what we do."
"It's had really good feedback so far and we're really pleased with how it's gone," she added.
While performing his routines, Singh Kohli will invite spectators to 'Stand up to Hardeep' by facing him on stage to see how long they can last without laughing.
The campaign will conclude on 18 November with a finale event at science education venue Centre of the Cell in Whitechapel.
There will be a drinks reception and the winner of Stand up to Hardeep will be announced.
To leave a comment register and let us know your thoughts.