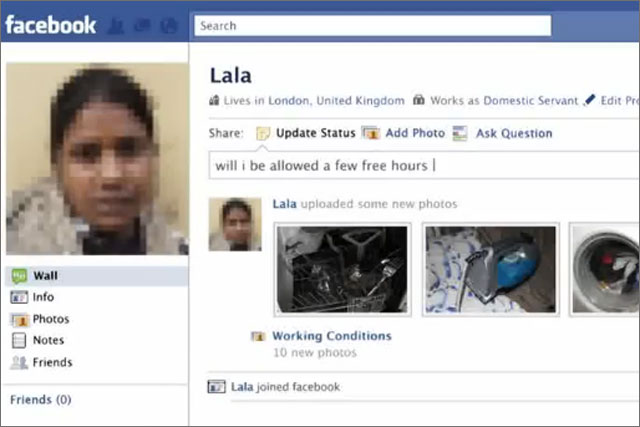 The online film by JWT London is available on Facebook and YouTube. It features the fictional social network account of a slave living in the UK.
The film, called 'Facebook', is based on the experiences of Lala, whose updates are an amalgamation of events faced by modern-day slaves who Anti-Slavery International comes into contact with.
Lala updates her Facebook status with her experiences of work and general life, which become more and more distressing as the film progresses.
Her posts include, "will I be allowed a few free hours this month?", "my family probably think I am dead" and "madam has stolen my passport. I have no identity".
Lala also posts photographs of the conditions she lives in.
At the end of the film Anti-Slavery International adds Lala as a friend and the line, "Slavery in London still needs abolishing", appears on screen, alongside a link to the charity's website.
The executive creative director on the campaign was Russell Ramsey. The copywriter and art director was Jonathan Budds and Anita Davis.
Dr Aidan McQuade, director of Anti-Slavery International, said: "People live their lives through Facebook and so the idea of the film is to turn this often very self-indulgent lens onto the life of a person who is suffering in domestic servitude.
"By using the world's most popular media tool we are able to bring to life the reality of modern-day slavery, which should resonate with every Facebook user."
Follow Sara Kimberley on Twitter @SaraKimberley