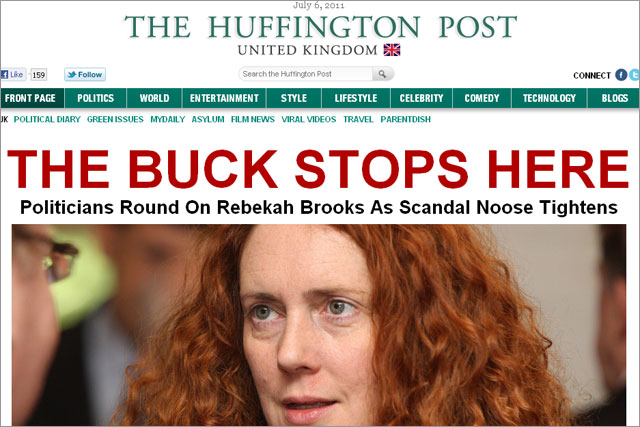 AOL acquired The Huffington Post, which has around 25 million monthly users, for $315m (£195m) in February this year.
The much-trumpeted UK version of the site is launching today (6 July). It will focus on UK content but also links to material on the US portal.
AOL is claiming a media first by using live Twitter feeds to promote the launch via Transvision screens at a number of train stations across the UK.
The campaign has been created by MBA and the media was bought by Total Media.
Commuters will be invited to tweet their opinions about various news topics, which will change throughout the day over the next few weeks.
Their tweets will then be transmitted back out within the ads, in a bid to reflect the real time nature of the Huffington Post.
The activity will be supported by using mock newspaper stand sellers at the stations, shouting "blog all about it" and "not Standard".
In addition there will be press, taxi and online advertising, which will feature the tweets with the "blog all about it" strapline, directing consumers to go to the Huffington Post UK site for the full story.
This is the first stage in the ongoing campaign, with another marketing push later this year. AOL, however, would not disclose details of the second phase.
Sarah Gavin, vice president of communications and marketing at AOL, said: "The Huffington Post has pioneered a new way for people to connect with the news of the day and with each other."

The UK version is based on the US model, which employs a core team of writers and editors and sources material from unpaid bloggers.
The Huffington post, which began as a liberal politics blog, is the third most visited news site in the world, receiving 42.9 million unique visitors in May, according to ComScore.