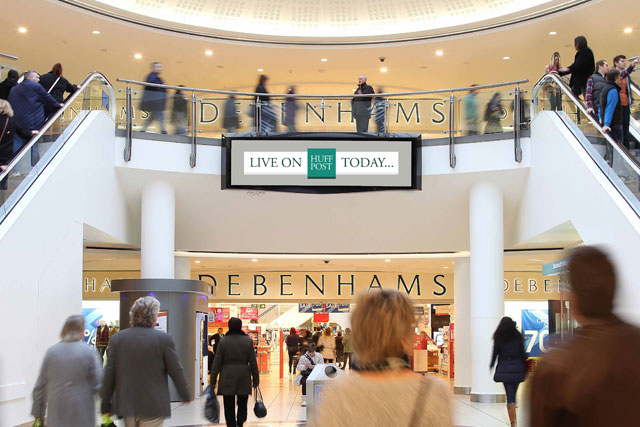 Launching this week, Huffington Post UK content will be available across Outdoor Plus' Shopping Centre network with headlines generated via a live RSS feed covering current affairs, sport celebrity and entertainment news.
The campaign will comprise 36 full-motion landscape screens across 14 key shopping malls nationwide including Bluewater, Manchester Arndale and the Metrocentre in Newcastle.
The partnership will run for three months, which Outdoor Plus calculates to deliver more than 11.5 million "impacts" every two weeks.
The tie-up is likely to be a boon for Huffington Post's nascent native advertising opportunities too, with retailers potentially able to tap into the proximity of the out-of-home sites to shops, in addition to the flexibility a live feeds offers. Huffington Post is expecting native advertising to account for more than a third of ad revenues this year.
Isobel Sita-Lumsden, marketing director of AOL UK, said she was "delighted" with the Outdoor Plus partnership.

She added: "The campaign will offer shoppers across the country the latest HuffPost headlines while on the move. As a digital news site, we see this as a great example of intelligent use of the medium – providing a dynamic, national outdoor live content campaign that is current, accessible and locally relevant."
Outdoor Plus has been among the pioneers of premium, digital outdoor media since the company was formed in 2006. Collectively, multimillion-pound investments from media owners into new digital sites helped the sector to build on the highs of the London 2012 Olympics and achieve unexpected growth of two per cent in 2013.
All Outdoor Plus full-motion, large-format screens are embedded with WiFi for enhanced brand connectivity.
Steve Atkinson, commercial director of Outdoor Plus, said he was "thrilled" with the Huffington Post partnership, adding: "I'm confident that this clever use of digital out-of-home technology will further boost the presence of our sites in the UK and also increase consumer engagement with our mall screens. The Huffington Post is the perfect platform to provide consumers with immersive and engaging content."