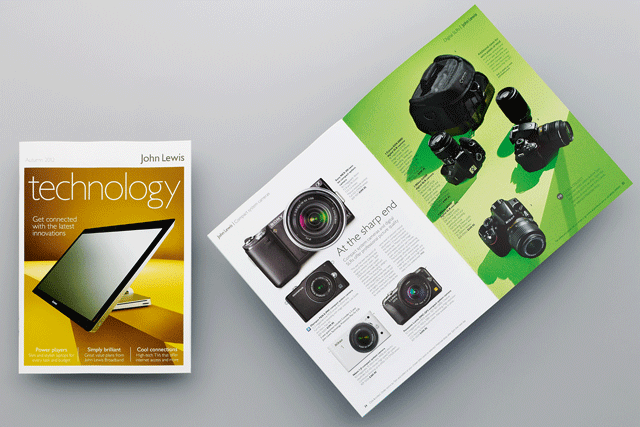 Hats off to Sunday, which has regained its crown as Marketing's Content Marketing Agency of the Year after a simply phenomenal 12 months.
With a 100% client retention rate and four impressive client wins, including John Lewis and Lloyds of London, the 2009 winner of this award was streets ahead of the competition, securing a clear victory in one of the most fiercely competitive categories.
The judges could not heap enough praise on the agency's achievements, describing its work as 'page after page of great, sharp, clear design'. The agency's work on design for Strutt & Parker and the 'graphic clarity' of Lloyds of London's magazine, Market, were of particular note.
Sunday is proving its worth as a true content agency across an increasing number of channels. The shift is evident through its work with Vodafone, where it has moved from being the mobile network's 'magazine agency' to its 'content agency', a role that includes developing its in-store iPad and touchscreen material.
Vodafone is one of several brands embracing Sunday in a similar fashion. In fact, nearly 20% of Sunday's growth has come from its work with existing clients.
The agency also puts its money where its mouth is; this is a corporate social responsibility commitment that runs far beyond the recycling-bin-and-not-much-else approach favoured by some competitors.
Sunday works with two charities - The Prince's Trust and The Royal Marsden - on a non-profit basis, providing services at a significantly reduced rate. In 2012 this discount will total more than £63,000, a substantial investment by the agency.
It was fitting that 2012 was the year that Sunday moved into new offices, a testament to its continued evolution. It is no exaggeration to say, however, that the past 12 months have seen the agency consistently show that size isn't everything.
Edgy, independent, innovative and committed to creating beautiful content, regardless of platform, Sunday is an agency that you don't just want on your roster, but running your content marketing strategy from start to finish.
The judges praised Sunday as a shining example of a relatively small player getting it 'bang on, on all counts, delivering outstanding solutions and getting the best from its customers and people by doing the right thing'. Nice guys really do finish first.
FOCUS ON - PEOPLE
Sunday's commitment to its people sets it apart from its competitors. This is an agency that wholeheartedly believes the old adage that 'you're only as good as the people'. In fact, 63% of the agency's clients agreed that in comparison with other agencies they worked with, Sunday had a better quality of staff. It has invested substantially in training, reflecting its commitment to transforming the agency into the leading digital business in its sector. Staff are enjoying the fruits of its outstanding year, too; four of the team have been promoted. Furthermore, the introduction of a cloud-based back-office system has enabled more home-working and staff have also benefited from an innovation fund, set up to allow them to learn something new.
Click here to read #aoty12: Content Marketing Agency of the Year - Best of the Rest