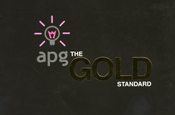 The publication of the comprehensive collection of case studies, dating back 15 years, coincides with the upcoming launch of the 2009 awards.
APG members can obtain a complementary copy of the Gold Standard book, while the price for non-members is £49.
Visit www.apg.org.uk for more details of how to purchase a copy.